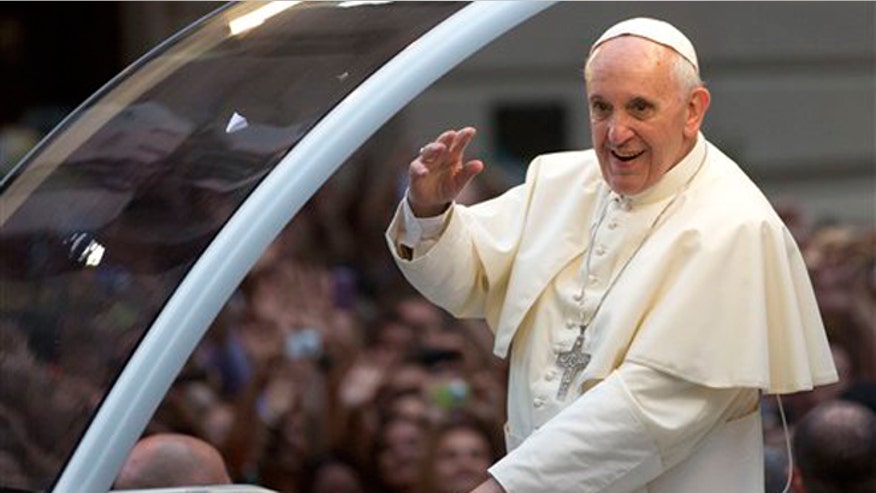 "Pope Francis' car takes wrong turn and is nearly crushed by adoring throngs of young people" ; ;
You can't make this stuff up. ; ;
Then again, not even the most creative Vatican watcher could have predicted what Pope Francis would do since taking over as head of the 1.2 billion member Catholic Church on March 13, 2013 after the historic and surprising retirement of Pope Benedict XVI. ; ;
Seventy-six-year-old Francis, the first pope of Latin American origin, began his pontificate of surprises when he was first introduced on the balcony of St. Peter's Basilica. ; ;
Not even the most creative Vatican watcher could have predicted what Pope Francis would do since taking over as head of the 1.2 billion member Catholic Church.
His first words were markedly simple and conversational: ;"Buona Sera"—or "Good Evening!" ;But it was his parting gesture that evening that allowed the world to see into this man's soul. ; The new pope bowed his head and asked the people to pray over him!
In the following days, Pope Francis, or "Francis," as he prefers to sign his name, continued his surprises. ; ;
– He went personally to the local hotel in Rome where he was staying prior to the conclave to pay his open bill. ; ;
– He called the paper boy in Argentina to cancel his subscription. ; ;
– He refused to move into the papal apartments that had been recently renovated for the next pope and preferred instead to live permanently in a guest house within the Vatican. ; ;
– He decided to say mass every day for visitors and workers of that same guest house. ; ;
– He set aside the use of donated Mercedes Benz vehicles for transportation within Rome and chose instead to ride in a 2008 Ford Focus. ; ;
– Most importantly, he set up a commission of serious reformers to make suggestions to him about how to clean up a culture of clerical careerism and corruption in the Catholic Church's central offices (the "curia"). ;
And now, on his first international trip, Pope Francis is riding through the streets of the beautiful (and sometimes dangerous) city of Rio de Janeiro in a Fiat mini-van, with windows rolled down, and a very reduced security team. ; ;
The numbers have not been confirmed as to how many hundreds of thousands, or even millions, of young people have travelled to Rio for "World Youth Day" to see this simple man who calls himself Francis. But regardless of the numbers those who are present are sure to hear a very simple message. ; ;
It's the message he has been communicating to the world sometimes in simple phrases that all of us can understand, but mostly by his actions: ; ;
"The meaning of life and happiness are found in a personal relationship with God and in love of our neighbor—especially the most needy. ; ; On the other hand, the pursuit of power and wealth for selfish purposes, eventually ends in frustration". ;
Now, that's what I think he will say to youth of the world gathered this week in Brazil, but then again, Pope Francis is full of surprises. ; ; ; ; ; ;
Father Jonathan Morris, who joined Fox News Channel (FNC) in May 2005, currently serves as a contributor and also writes for FoxNews.com.