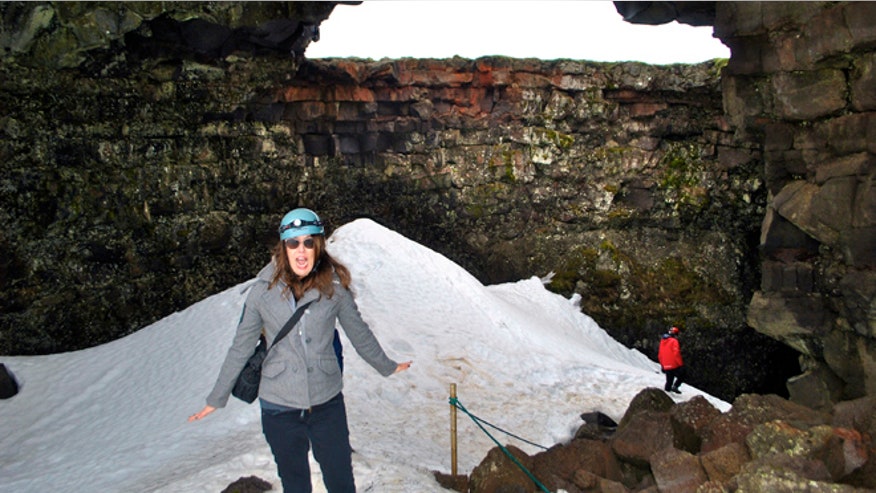 You can be schooled about elves by just about anyone in Iceland, but there are also opportunities to receive a real elfin education while exploring the country. Get a diploma for completing a course in Elf Studies, hike at the end of the world and visit elfin hot spots on your next trip to this enchanting island. ;
There is one rule about elves in Iceland: Don't laugh about the elves in Iceland.
More than half the population of this island nation of 300,000 people is deadly serious in their beliefs about elves—magical small folk who live amongst us and occasionally lend a helpful hand to human beings.
I didn't actually believe in their belief until I traveled to Iceland and conducted my own unscientific poll of local folk, from cab drivers to waiters to politicians and businessmen.
Yes. If you ask almost anyone in Iceland to tell you about elves you'll get an earful. Either their sister has seen one or an elf helped their Uncle Siggy change a flat tire in the Highlands about a decade ago. There are even stories of the government consulting elf experts before re-routing highways for fear of destroying elf habitation.
Don't even get Icelanders started on trolls.
According to local experts elves are typically invisible to most humans. They range in size between 10 and 80 centimeters (or up to 31 inches). There are 13 different species and they prefer to live in rocky places near running water. Even though we don't know anything about them, they know everything about us.
As a visitor to Iceland you can be schooled about elves by just about anyone, but there are also opportunities to receive a real elfin education while exploring the country.
Elf School
Don't try to seek out the Icelandic Elf School online. Even walking into the main tourism office in Reykjavik earns you only confused stares. Just take a $12 cab ride a bit outside the city center directly to 31 Sidumuli on the second floor of a strip mall.
The school starts at approximately 3 pm every Friday and typically lasts between three and four hours. The founder and dean of the elf school is historian and spiritual advisor Magnus Skarphedinsson, a Viking of a man partial to plaid flannel and a well-kept beard. During the three to four hours of class Mr. Skarphedinsson will relay all of his personal knowledge of elves, gnomes, dwarves, fairies and spirits that he has obtained through personal interviews with more than 700 eyewitnesses.
"I started thirty years ago collecting all possible and impossible information about elves and hidden people in Iceland," Skarphedinsson told me during my visit to the school. "The elves do tend to help people. They make abnormally good friends and I have heard many, many accounts of them saving people by giving starving people food and sick people medicine."
All students in the school receive a study book in English, German or Swedish and a diploma confirming they completed the course in Elf Studies.
Does the school teach fact or fiction? It doesn't matter. Skarphedinsson is so earnest and so certain that his knowledge of elves and the magical world is not only extensive but accurate that you won't regret spending an afternoon listening to his tales.
Elf Trekking
Mountain Guides is one of the many groups offering adventure trekking tours all over the island but three of their trips in particular lead the more open-minded traveler through elf territories with expert guides.
The Víknaslóðir, or "Hiking at the End of the World" trek is a 5-day trek through the mountains and small bays of the North East. The Kingdom of Volcanoes and Glaciers, is a 5-day trip through Geysir and Gullfoss waterfall, the Skaftafell part of Vatnajökull National Park, the Jökulsárlón glacier lagoon and the famous Laki volcano. Both trips are led by experienced guides who take visitors through some of the magical places linked to elves. Not having the better part of a week to spare I took Mountain Guides' Essential Iceland Super Jeep Tour through Kaldidalur, Langjökull Glacier and the Lava Caves. My guide, Reynir Jonsson (reynir@Fjallasport.is) pointed out all the places where the elves live.
"Elves are generally just nice. They're good with kids and they don't do anything to harm anyone unless someone harms their homes," Jonsson said. He explained that he thinks the Icelanders belief in elves is a holdover from the days before the Enlightenment. "We were so far away from the rest of Europe that we kept believing in magic," he said.
Elf Walking Tour
For 11 years Sigurbjorg Karlsdottir, known better as Sibby, has been giving story-telling walks around Hafnarfjordur, a port town right outside of Reykjavik and the capital of Iceland's "hidden" worlds. For 3900 kronus ($38 dollars), for 11 years. Her 90 minute walks take visitors to elfin hot spots (creeks, rocks, boulders and waterfalls) around Hafnarfjordur as Sibby tells tales of famous elf sightings.
Visitors who wish to book a tour with Sibby can email her at sibbak@simnet.is.
"It's an insight into Icelandic folklore and stories from people who have had their own experience with the hidden folk," Sibby told me.