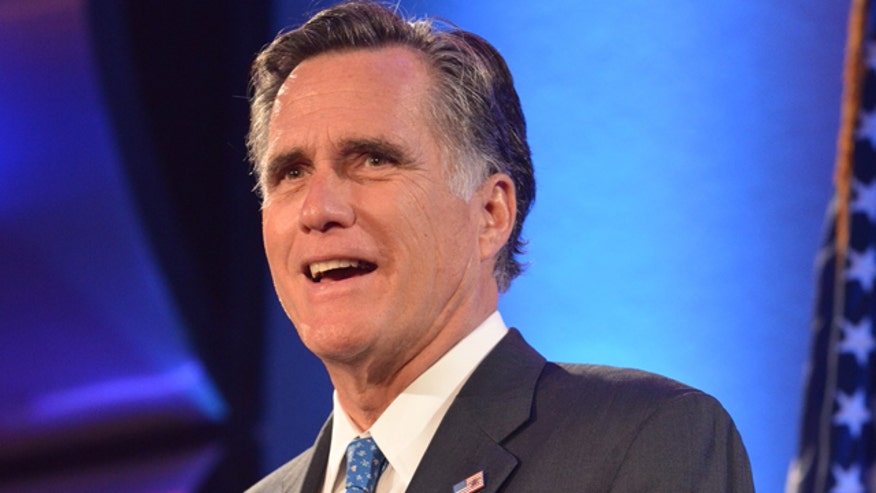 INDIAN WELLS, Calif. – While he's "seriously considering" another presidential run, Mitt Romney provided some new insight Monday night into how a potential campaign would differ from his two previous attempts.
The 2012 Republican nominee, in a California speech, said one of the lessons he learned from that failed effort was the need to communicate to voters "who I am – not just through the policies I talk about but the places that I go and the audiences I speak to."
Romney specifically identified a desire to personally address minority communities and younger audiences. "If you show up at businesses it looks like you're a business person. If you show up at churches and at minority communities it shows you care much more broadly. And that's something that I want to do."
Romney gave no ground when asked by the event moderator when a presidential announcement decision would come. A Romney aide told Fox News that there are no imminent public events of the kind that would be expected from a person running for high office.
Monday night's speech at an event called Desert Town Hall, held in a Coachella Valley hotel, was a paid appearance publicly announced last summer. Some of his comments were similar to what he told the Republican National Committee last week in San Diego—his first comments since telling a group of political supporters about piqued interest in a 2016 presidential run.
Notably, Romney did not repeat his call to "end the scourge of poverty" but rather breaking what he called the cycle of poverty. "The reason that I am a Republican is because I believe in the principles of conservatism are the best to help people get out of poverty and the best to help people have opportunity and rising wages."
Romney twice cited a Brookings Institution study showing a high school graduate who marries before parenthood and at some point in time holds a full time job is unlikely to live in poverty. He says government policies over the past 50 years have failed to lift America's poor and that it should focus on policies that will tackle the educational, social and economical benchmarks noted by the Brookings study.
"If you're serious about helping people get out of poverty wouldn't you think [Washington politicians] would look at a study like that and say, 'gosh, let's look at our government programs and see if they're keeping people from getting married.' And they are."