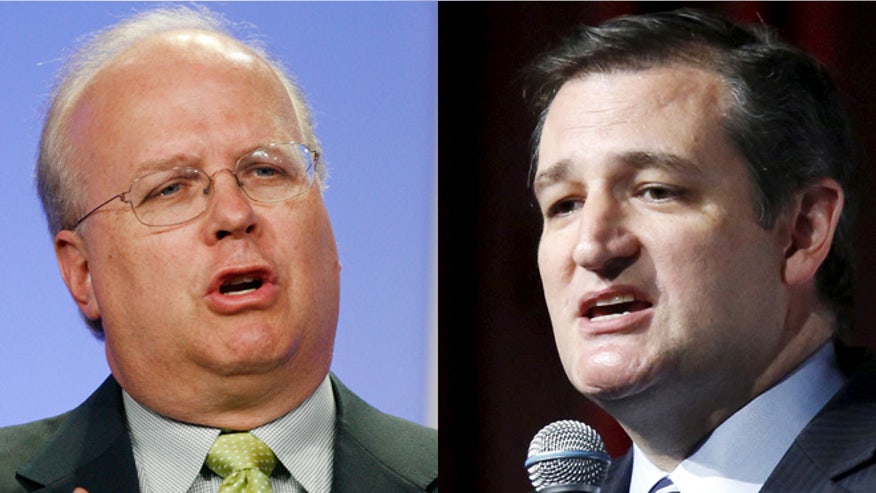 WASHINGTON – A long-ago disagreement between a then-Republican up-and-comer and a seasoned GOP presidential consultant has each accusing the other of lying as the incident resurfaces, in a public spat that is getting nastier by the day.
Sen. Ted Cruz, R-Texas, and Karl Rove are at odds over their accounts of what took place when former President George H.W. Bush donated $1,000 to Cruz's campaign for Texas attorney general in 2009.
Rove has disputed Cruz's characterization of his reaction. But Cruz is having none of it. He fired back in a statement: "I never imagined that his response would be a straight-out falsehood. It's disappointing; this is why people are so cynical about politics because too many people are willing to lie."
Cruz, who is now running for the 2016 GOP presidential bid, reportedly claims in his forthcoming book, "A Time for Truth: Reigniting the Promise of America," that when he started his political career, he approached the elder Bush for a donation.
In the book, which hits stores Tuesday, Cruz claims that his meeting, which took place in Maine, went so well that not only did he walk away with a $1,000 check and endorsement but also with clothes and a belt buckle that said, "President of the United States."
But when Rove found out that Cruz, then Texas' solicitor general, had won the former president's support, he allegedly got upset. Cruz reportedly wrote that Rove "suggested that the elder Bush was too old to have any good judgment anymore."
Rove, former deputy chief of staff and senior adviser to President George W. Bush and a current Fox News contributor, remembers it differently.
Rove disputed Cruz's comments in a post on Medium. Rove claims his concern was that Cruz had solicited a contribution from the former president without making it clear that incumbent Attorney General Greg Abbott had not yet decided if he would run for re-election.
"This put President George H.W. Bush potentially in the position of opposing a sitting officeholder who had previously been appointed to the Texas Supreme Court by his son, then-Governor George W. Bush. General Abbott decided later in 2009 that he would seek reelection the following year," Rove responded.
But Cruz reportedly claims in his book that Rove "implied that if I made any news about Bush 41's support, then Bush 43 would endorse my opponent and come out publicly for him – a threat that was fairly striking given that I had devoted four years of my life to working as hard as I could helping to elect Bush and serving in his administration."
Rove, who said he is "accustomed to being criticized for others' political benefit," said he was disappointed that Cruz "decided to raise the name of one of the finest presidents our country has ever known, President George H.W. Bush."
Kristin Davison, chief of staff at Karl Rove & Company, told FoxNews.com that Rove has a record of a 2009 email Cruz sent Rove that "confirms Karl's account that their phone call in 2009 was about involving President Bush 41 in a primary where the sitting state attorney general had not made a final decision."
The excerpts from Cruz's book were provided to conservative news site Breitbart.