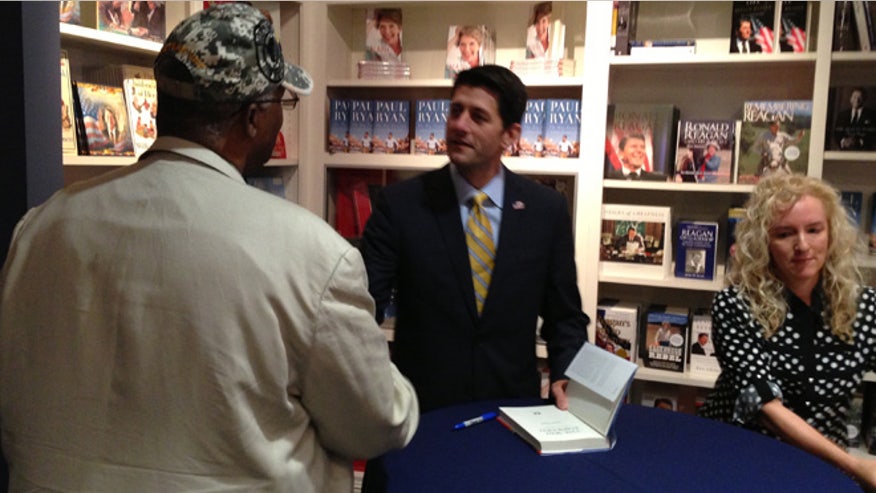 From across the country but in tune with the latest comments from the White House, Rep. Paul Ryan, R-Wis., took aim at what President Obama said was his own administration's lack of strategy in dealing with terrorists operating in Syria.
"What we need to have is a strategy to finish them off. To defeat ISIS," Ryan said Thursday night in California. "Not to contain them….but to fundamentally finish them off. And I don't think the president sees this moment for what it is."
Ryan says policymakers in Washington have been aware of the threat from ISIS for months and likened the terror group to Al Qaeda 3.0. "If we don't rise to this moment. This sends the worst possible signal to tomorrow's jihadists," Ryan said. "If the president doesn't step up on this issue we're going to rue the day."
Ryan spoke to a receptive audience at the Ronald Reagan Presidential Library in Simi Valley, highlighting his new book, "The Way Forward: Renewing the American Idea." The event, attended by 900 people, many of whom waited in line afterwards for his signature, was the last of 20 in Ryan's opening spree of stops to promote the book—and himself.
Reflecting on the last political campaign, Ryan said the American people were given empty promises by the White House before the election and believes a more informed electorate will not favor a "third Obama term" in 2016.
He said people are "wising up" to the realities of programs, like ObamaCare, that Republicans in 2012 warned would have negative consequences. He reasoned that voters were willing to retain President Obama, in part, because they had yet to see first hand the problems that Ryan and others in his party predicted.
Now, Ryan says, the reality of the actual care made available through the new law is coming to light and it will give voters in 2016, displeased with ObamaCare's results, reason to reconsider the GOP. "A [Hillary] Clinton presidency, a [Elizabeth] Warren presidency, or whoever [the Democrats] are going to nominate is a third Obama term. I think it gives us an opening as conservatives."
Ryan reiterated his oft-stated intention to wait until next year to make a decision about running for the presidency. "It's a decision that's going to take prayer, of where we are in life and what it takes. And it's a family decision."
This was the second time Ryan spoke at the Reagan library in the last three years. In 2012, Ryan visited while he was being considered by Republican presidential candidate Mitt Romney to run on the GOP ticket. He would soon join Romney in what ended up being a losing campaign.
In that speech, as well as Thursday's, Ryan warned of deficits and uncontrolled spending on entitlement programs. He said he's convinced Obama is unwilling to take steps necessary to fix the problems and predicted that the next president, regardless of party, will have no choice but to pursue reform.