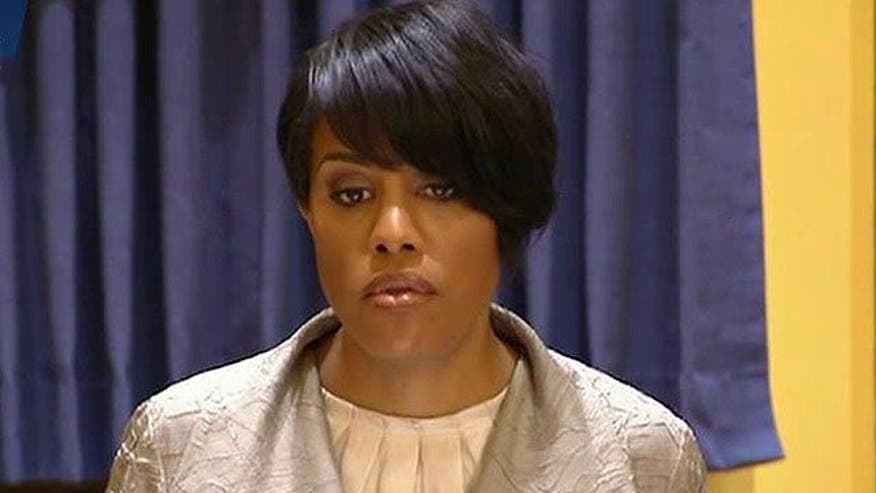 BALTIMORE – An epidemic of murder that has gripped Baltimore in the month following the Freddie Gray riots is threatening to undo decades of rebirth in the city's popular downtown — and in the process, wipe away tens of millions of tourist dollars.
"Sales are next to nothing," said Kenneth Robinson, manager of the Fudgery, an iconic candy store tucked in the heart of the Inner Harbor.
Local merchants were just starting to see business bounce back after last month's riots. But a crime crisis has since gripped Baltimore, with police saying criminals have taken advantage of the situation to wreak havoc on Charm City.
Nine people were killed and nearly 30 wounded over the holiday weekend, about three weeks after the rioting. With 38 homicides so far in May, Baltimore is seeing its deadliest month since 1999. The number of killings this year is now at 111, compared with 211 for all of 2014.
Store owners, restaurateurs, pub owners and others in and around the Inner Harbor say the long Memorial Day weekend did help them recover losses associated with the looting and rioting sparked by the April 19 death of 25-year-old Gray in police custody.
But merchants worry the national attention on Baltimore's crime wave will have many potential visitors scratching the city off their vacation calendar.
"Business has been very slow," said Robinson, whose store has been around since 1980.
'I wouldn't be surprised if Baltimore never fully comes back'

– Baltimore restaurateur Blake Smith
Like all the merchants interviewed for this story, Robinson told FoxNews.com that the six-night curfew imposed after the late-April rioting was devastating for business and their employees, who were sent home early, and that the recent violence is "definitely going to have a further impact," despite taking place in the more crime-plagued outskirts of downtown.
"At the end of the day, people in America still saw this violence as happening in Baltimore," he said.
Business also suffered at the nearby and upscale Harbor East commercial and residential district, said Blake Smith, owner of the Bagby Pizza Company and Ten Ten American Bistro.
"After the curfew, it was terrible," the 30-year-old Smith said. "Lunch was down by half. Dinner was non-existent. … It's still not the same, but close."
Still, Smith says he worries about what might happen if one or more of the officers indicted in the Gray case is found not guilty or if another black male dies in police custody.
"I wouldn't be surprised if Baltimore never fully comes back," he said.
May 27, 2015: Tourists pause along the waterfront by Harborplace, Baltimore, Md. (FoxNews.com)
A debate is now raging in Baltimore and beyond over whether police, in the wake of the riots, are being constrained and are reticent to patrol aggressively — as crime soars.
Baltimore police union boss Lt. Gene Ryan said in a statement Thursday that criminals are "taking advantage" of the situation and "feel empowered now." He said "police are under siege" and afraid of going to jail for "doing their jobs."
In roughly the first two weeks of May, arrests were down by 57 percent, which has also resulted in accusations that the police have intentionally retaliated. "My hope is the police will get the support they need from the community to be able to get some answers and bring some of these individuals to justice," Baltimore Mayor Stephanie Rawlings-Blake told reporters Tuesday regarding the crime wave.
Stuck in the middle of the debate between the police force and City Hall are residents and businesses. Estimates by federal, state and local officials show the rioting — which lasted from April 25, hours after Gray's funeral, to the early hours of April 28, when hundreds of National Guardsmen were deployed across the city — cost nearly $50 million.
Rawlings-Blake, a Democrat, is asking the city for $20 million to cover overtime, equipment and other associated costs. Republican Gov. Larry Hogan drew $20 million from the state's "rainy day" fund to cover costs. And the federal Small Business Administration reports the rioting caused at least $9 million in damage to businesses, which included the burning and looting of two CVS pharmacies.
Still, perhaps the most talked about losses are those associated with the Baltimore Orioles, who after the April 25 rioting outside of the ballpark postponed two games, moved three to the Tampa Bay Marlins' stadium and made history by playing a game without fans against the Chicago White Sox.
Team owner Peter Angelos has not said how much revenue was lost. One estimate puts the loss of ticket sales, concessions and parking at $7.5 million, which doesn't include the related lost revenue for surrounding businesses.
However, the figure could be less considering the two canceled games were being played Thursday, albeit at a reduced ticket price. And Tampa Bay purportedly might have to share some of the ticket revenue while Major League Baseball reportedly considers how to reimburse the Orioles.
May 27, 2015: Visitors to Oriole Park at Camden Yards, the Baltimore Orioles' ballpark, Baltimore, Md. (FoxNews.com)
"We lost business," acknowledged Craig Ziegenhein, a manager at nearby Pickles Pub who remains optimistic. "Our fans and our security did a great job. Hopefully this is all in the past."
The city's hotel and convention industry also has suffered.
Two groups canceled trips scheduled for April 28 to May 1. The American Heart Association backed out of its meeting at the Hilton Baltimore. And the Door and Hardware Institute canceled a scheduled gathering at the Baltimore Convention Center, after having booked rooms for more than 2,000 attendees.
Tom Noonan, president and chief executive of Visit Baltimore, the city's tourism and convention agency, said Wednesday that business has rebounded after the rioting but acknowledged an uncertain future.
"Given that we are in the first days of a peak travel and tourism period, it's impossible to offer any sense of where tourism is headed in Baltimore this year," Noonan said. "We … had a very strong Preakness weekend. … With respect to the unfortunate uptick in violent crime, it shouldn't be taken lightly. But I know that it is the top priority for our police commissioner and for our mayor."
On Wednesday, out-of-town visitors walking along Baltimore's waterfront seemed comfortable with their surroundings.
May 27, 2015: A family takes a break on a hot day while visiting Harborplace in Baltimore, Md. (FoxNews.com)
"I feel safe," said Mike Quinn, of Milwaukee. "I'm not looking around. But maybe I would 10 streets up."
Gray, a black man, was arrested April 12 and died seven days later from a spinal injury while in police custody. Six Baltimore police officers now face criminal charges in the case.
Members of the police department and their representative say Rawlings-Blake allowed the protesters to throw rocks and destroy patrol cars and personal property, putting officers unnecessarily in harm's way and resulting in dozens being injured. This backdrop has fueled allegations that officers no longer have the community and City Hall's backing to do their job.