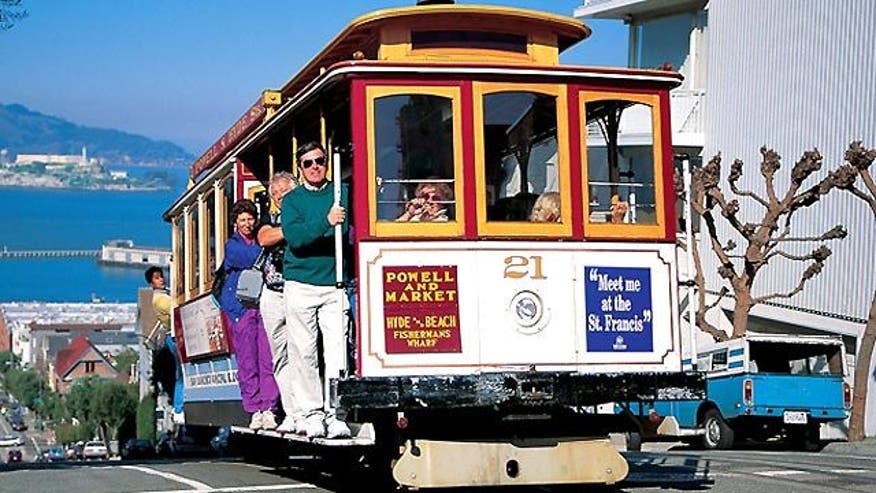 The city by the bay is home to some of America's most iconic landmarks, including a certain orange bridge and a former prison that once held some of the most notorious convicts. Here are five things to see and do in San Francisco.
5…Cross the Golden Gate Bridge
This 1.7-mile bridge, which connects San Francisco with Marin County, was completed in 1937. Walk or bike across the bridge, or simply snap as many pictures as possible from all different angles. The Golden Gate Bridge Pavilion, which opened in May 2012, provides merchandise and historical information as well as the original 12-foot bridge "test tower," a 1/56 scale model that was built in 1933.
4…Escape To and From the Rock
Alcatraz most famously served as a national penitentiary from 1934 to 1963, but the island nicknamed "the Rock" was also the site of the west coast's first lighthouse and U.S.-built fort. See where Robert Stroud (the "Birdman of Alcatraz"), Al Capone and George "Machine-Gun" Kelly all spent time behind bars. Make sure to book your ferry to Alcatraz in advance because you don't want to miss a trip to this chilling-yet-fascinating island.
3…Travel by Trolley
San Francisco's famous cable cars run today much like they did when they first began operating in 1873. Some 9.7 million people ride the cars each year, which travel at 9 miles per hour. It will cost you $5 each way to ride on these moving national landmarks, but it may be worth it if you don't want to trek up San Francisco's hilly streets.
2…Experience Fisherman's Wharf
There is something for everyone at Fisherman's Wharf. Dine on Dungeness crabs or clam chowder in a sourdough bread bowl. See the sea lions at PIER 39 and indulge your chocolate craving at the Ghirardelli Ice Cream Shop at Ghirardelli Square. Get transported back in time when you see the 19th century ships at the San Francisco Maritime National Historic Park.
1…Photograph the Painted Ladies
No trip to San Francisco is complete without seeing the beautiful Painted Ladies of Alamo Square's "postcard row." These Victorian houses (which you may recognize from the "Full House" intro) were built between 1892 and 1896, and they withstood the destructive San Francisco earthquake of 1906. Picnic, play or relax in the park at Alamo Square as you gaze at these magnificent mansions.