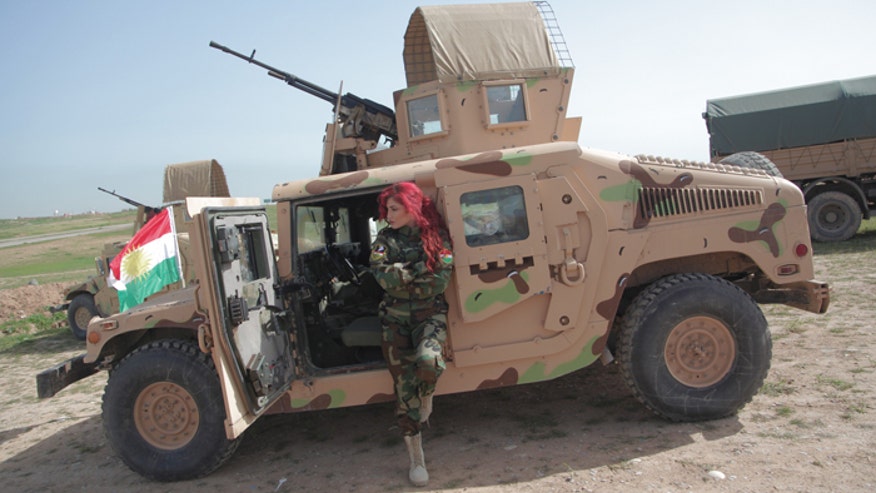 She's been likened to Shakira and Lady Gaga, but Helly Luv, the Kurdish pop star who is using her striking beauty and vocal talents to tell the world about her people's fearless fight against ISIS, is an original.
The 26-year-old sensation whose real name is Helen Abdulla sings about war, dead bodies and revolutions, but her grim subject matter is aimed at promoting peace through victory over the black-clad terrorist army and ultimately, an independent state for Kurdistan. In "Risk it All," the video of which has more than four million hits on YouTube, a midriff-baring Luv dances as she sings, "Put your guns up in the air; your guns up in the air."
"I knew I wanted to be an artist, but as a kid, I never had a role model who was Kurdish and internationally known, so I basically became that."

– Helly Luv
"I'm just showing the truth, and trust me, I'm not even showing it as bad as it is," Luv told FoxNews.com in an interview from the Erbil, the capital of the semi-autonomous region of Iraq Kurds refer to as their land. "People forget that this is the most horrific terror group in all of history, so I have to show the reality of the situation."
Born in Iran in 1988, Luv moved to Finland as a young child. But her family roots – her mother and grandfather were Peshmerga fighters – shaped her cultural and political sensibilities even as she honed her musical talent.
"When you see your country suffering, it's your responsibility to get the message out to the rest of the world," she said. "These Peshmerga are regular people without any training. I want people to know the story of the Kurds."
Luv is an unlikely face of Mideast turmoil, wearing mini skirts, flashy jewelry, impeccable makeup and high heels as she dances before a backdrop of war, tanks, dead bodies and heavy weaponry.
"(My video) spread like fire here. It was risqué and very new, but there was so much love and support," Luv said.
Luv spent six years trying to make it in Hollywood as a pop star, but, inspired by her people's bid for independence, put those dreams on hold two years ago. She was in Erbil when ISIS overran the city.
Click here for photos of Helly Luv
"There's no way I can explain how I felt," Luv recalled. "There was chaos. There was panic. We all wanted to be on the frontlines."
Luv did what she could: She made phone calls and she begged and pleaded for humanitarian aid like milk, water, food and diapers for the victims in Kobane and Sinjar Mountain. But ultimately she knew it was her unique talent that was needed most.
"I felt like as an artist, my weapon is probably not a weapon, but my voice, and through my music, I wanted to tell people what we are going through in Kurdistan," she said.
She made a quick – and highly emotional – trip back to Los Angeles to record what would become her biggest music video hit, "Revolution."
"This was the hardest thing I ever did. I was crying throughout the whole session," Luv said, recalling the sense of urgent obligation she felt in portraying the plight of her people.
She then returned to Iraq to film the music video in a small village called Khazer, close to Mosul and about five miles away from territory controlled by ISIS.
"In the West, people feel like it may not be their responsibility or that the war in the Mideast is not affecting them, but they are so wrong," Luv said. "If we don't come together to fight this enemy, they will come to you."
Luv has not made everyone into a fan. She says she has received death threats, and that a local mullah has shamed her from his pulpit. Security concerns and regional fame have made it impossible for her to lead a "normal life," as she puts it. She can't go to a park, restaurant or market without being in fear for her life or just mobbed by adoring fans. But she trusts the Kurdish fighters she inspires to protect her.
"I just have so much trust in the Peshmerga, who are not only protecting Kurds, they are fighting to protect the entire world," she said.
Meanwhile, she has achieved her dream of stardom, if in an unconventional way.
"I knew I wanted to be an artist, but as a kid, I never had a role model who was Kurdish and internationally known, so I basically became that," she said.
Lisa Daftari is a Fox News contributor specializing in Middle Eastern affairs.