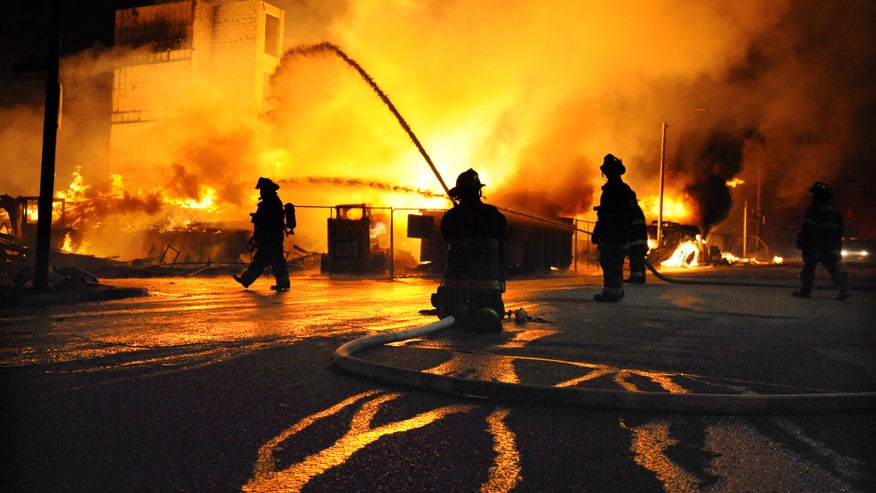 EXCLUSIVE – An analysis of social media traffic in downtown Baltimore Monday has unearthed striking connections to the protests in Ferguson, Mo. last year, according to a leading data mining firm that shared its findings exclusively with Fox News.
The firm, which asked to remain anonymous because of its government work, found between 20 and 50 social media accounts in Baltimore that were also tied to the peak period of violence in Ferguson. While further analysis is being conducted on the data, it suggests the presence of "professional protesters" or anarchists taking advantage of Freddie Gray's death to incite more violence.
Gray, 25, died April 18, a week after being injured while in police custody. A wave of violence erupted in Baltimore following his funeral Monday.
One account, which also tracked the recent union protests in New York City as well as other disturbances, tweeted photos of Gray's funeral and used language that seemed to anticipate violence in Baltimore.
The discovery that some social media accounts were tied to cities 825 miles apart was described to Fox News as "surprising." While it is possible to spoof accounts and make it appear as if someone is in one location when they are really in another, the data mining firm told Fox News that it can't fully explain the numbers.
The use of social media to fuel violence in Baltimore has already been highlighted by law enforcement. On Monday, police said an online call was issued for a "purge" at 3 p.m. ET, starting at Mondawmin Mall and ending in the downtown area. That type of threat is based on a movie called "The Purge," the plot of which involves rampant lawlessness.
The Washington Times also reported Monday that law enforcement intelligence officials issued a warning after someone sent a text urging people to "kill all white police officers" in reaction to Gray's death. The text has fueled fears that the violence in Baltimore could spread nationally, according to safety memos obtained by The Washington Times.
Baltimore's mayor, Stephanie Rawlings-Blake, announced a 10 p.m.-5a.m. curfew would be imposed beginning Tuesday.
Catherine Herridge is an award-winning Chief Intelligence correspondent for FOX News Channel (FNC) based in Washington, D.C. She covers intelligence, the Justice Department and the Department of Homeland Security. Herridge joined FNC in 1996 as a London-based correspondent.