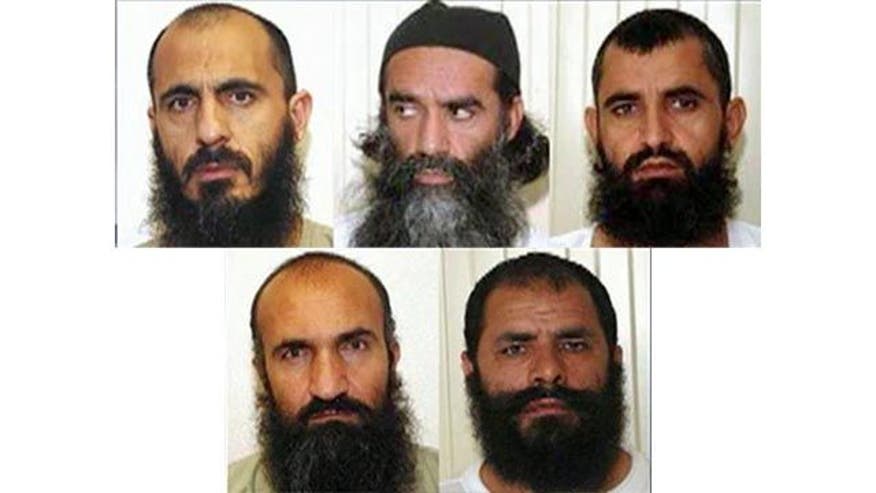 The U.S. government tried to recruit members of the Taliban Five as assets, so they could gather intelligence and the U.S. could influence their future actions, Fox News has learned.
The effort to "flip" the five Taliban leaders into becoming informants, however, didn't work. A source familiar with the strategy described it as a "total failure."
Other sources, who discussed the option on the condition of anonymity, backed up the account.
The move was pursued to strengthen the Obama administration's ability to prevent the ex-Guantanamo prisoners — traded more than a year ago for American Sgt. Bowe Bergdahl — from returning to terrorism. The Taliban Five have been living in Qatar under a travel ban, which was set to expire earlier this week but was temporarily extended amid ongoing talks between the U.S. and Qatar.
Asked about the strategy of flipping Taliban Five members, White House Press Secretary Josh Earnest offered little information at Friday's press briefing.
"Even as a general matter, this is an intelligence matter that I won't be able to discuss from here," Earnest said.
The Taliban Five were held for 12 years at the Guantanamo Bay detention camp, where military reviews concluded they were a likely security threat and had "high intelligence value." For those reasons, among others, seasoned military officers believe the Taliban Five were obvious recruitment targets.
"We would definitely have tried to work that with these people because of who they are, and because of the relationships they have," Fox News military analyst and retired Gen. Jack Keane said. "These are people that had significant senior positions inside this organization."
A year ago, the men were greeted as heroes in the gulf nation of Qatar. They are now joined in the oil-rich nation by some 65 immediate family members and other relatives.
Asked by Fox News if their presence might "increase the men's ability to re-engage with terrorist networks," State Department spokeswoman Marie Harf said, "I'm not sure why that would be the case. It seems like pure speculation to me."
But a leading Republican on the House Intelligence Committee who receives regular briefings said otherwise.
"Without going into the details of the numbers, they have had access to outsiders who in turn have had access to the outside. And this can't bode well for American national security," Kansas Rep. Mike Pompeo said. "I wish I could tell you that I thought the administration understood the threat [from] these five, frankly, as well as the threat from Al Qaeda and ISIS, but I think in the case of these five in particular the administration continues to underestimate what it means for them to come back."
The wisdom of the administration's decision to swap the five Taliban leaders for Bergdahl without the necessary congressional notification is the subject of an ongoing national security debate.
In a statement to Fox News, National Security Council spokesman Ned Price said: "Although we cannot detail the measures the United States and our partners take to mitigate the potential threat posed by these former detainees, it is fair to say that we remain both vigilant and in close contact on these matters. We have relied on extensive monitoring measures and travel restrictions to prevent them from threatening our interests."
Catherine Herridge is an award-winning Chief Intelligence correspondent for FOX News Channel (FNC) based in Washington, D.C. She covers intelligence, the Justice Department and the Department of Homeland Security. Herridge joined FNC in 1996 as a London-based correspondent.