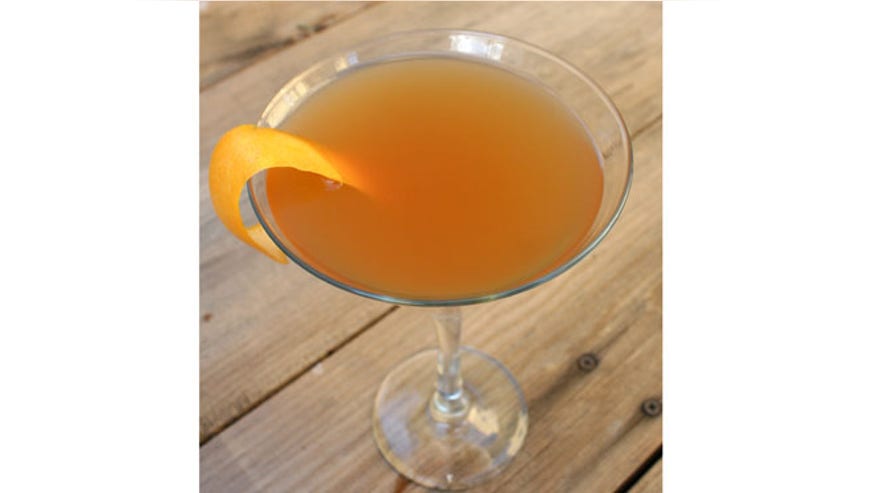 Looking for a drink that may make you do something that will land you on the naughty list? Some of the best bars and mixologists in the country have you covered. Check out these strong holiday cocktails. ;
The holiday season snuck up on us this year. With it's Ninja-like approach, the season is quiet until it's too close to do much about.
Waging open war on our waistlines, wallets and patience, sometimes it's all just a bit too much to take. But what's a reasonable response to help take the edge off?
Have a drink, of course.
But not just any drink. This isn't the time for a white wine spritzer or some eggnog with a few drops of rum or whiskey floating around in the mix somewhere. These troubled times call for a drink with backbone. A cocktail that delivers a mix of Irish courage and forgotten cares that untangles knotted nerves in a hurry. This is a specialized class of relaxation in a glass that deliver moments of zen that John Stewart can only dream of offering an audience.
Luckily, some of the best bars and mixologists in the country have us all covered. Years of experience have taught these modern day shamans that this season calls for serious medicine, so they're serving up a special set of recipes designed to supply a few ounces of decompression on demand. Some are deliciously powerful twists on classics, some pack a brutal punch, and still others pair up their relaxing qualities with a hefty dose of the bizarre, but all provide exactly the dose of mental health we need as we run the gauntlet of holiday parties, Christmas sales and super special family time.
Here are a few of the best from around the country along with all the information you'll need to mix up a batch for yourself when you're feeling like you're ready to do something that'll land you on the naughty list.
Dickens In The Park
At Chicago's Henri, a French-influenced hotspot that prides itself on its cocktail service, spirits director Clint Rogers mixes up the Dickens In The Park, combining "flavors of Bourbon, anise and clove, lifted by a hint of citrus." He calls it a Christmas Manhattan and the flavors certainly ring true, pairing up sweetly balanced bourbon and vermouth in typical Manhattan fashion, with Amaro and Cherry Vanilla bitters adding a sophisticated bitter note that elevates the mix and offers a complex herbal note that somehow screams holidays without the cliché spices usually associated with the season.
Churchill's Holiday
Pachanga Patterson is a Mexican restaurant in Astoria, Queens that specializes in upscale tacos paired up with house-infused tequilas. Bartender Michael Stahl mixed up a new recipe this holiday season to help his patrons shake off the stress of a tough holiday season, not to mention Hurricane Sandy. Inspired by the Churchill cocktail, Stahl gave it a seasonal twist.
"I wanted to create a drink using ingredients you'd probably already have in your kitchen during the holiday season," said Stahl. "It combines the traditional flavors you'd expect during the holidays-warmth of the bourbon, tartness of the apple cider, winter spices, minus the overwhelming sugary sweetness."
Quartieri Spagnoli
During the holidays, even brunch can be stressful. PizzArte, a Neapolitan restaurant and gallery in Midtown Manhattan developed a bizarre boozy treat that may not replace the Bloody Mary on the brunch table, but with a whole lot of tequila in the mix it'll certainly help erase one's cares in a hurry. Manager Alessandro Passante based the drink on the flavors of a classic pizza margherita, with sweet tomato and basil mellowing the usual kick of the tequila and lime and orange liqueur adding an acidic punch that helps the glass disappear in a hurry. Passante calls it an "explosion of Mediterranean flavors." And while it may not be for everyone, it's certainly for anyone looking to tune out the drone of the in-laws over eggs on Christmas morning.
Who's the Boss
Even when the holidays are crashing down around your ears, it's important the stay cool, calm and collected. Or at least look that way. So when the Christmas tree is overrun by cats and the menorah goes out in a blaze of glory, taking the table and most of your hair with it, it's best to kick back with a smooth cocktail like the Who's the Boss, an evolved take on the Manhattan developed by Chicago mixologist Jeffrey Wondrely from WOOD Restaurant in Chicago. The blend of sweet and spicy liqueur and rye is a tough one to compete with when the kids are clamoring for the umpteenth round of "The Dreidel Song" and there's seemingly no escape.
Emergency Room
Desperate times call for desperate measures. In college, those desperate times were an opportunity to down a few Long Island Iced Teas to forget one's troubles. According to Lisa Alcalay Klug, author of the newly released, Hot Mamalah: The Ultimate Guide for Every Woman of the Tribe, when the holidays go from happy to hellish, it's time to make like a dorm-dweller and break out a whole lot of liquor. Her twist on the Long Island is not only a bit more balanced than the original, but it also fortifies against the nigh-inevitable fight with the flu that relatives tend to cause.