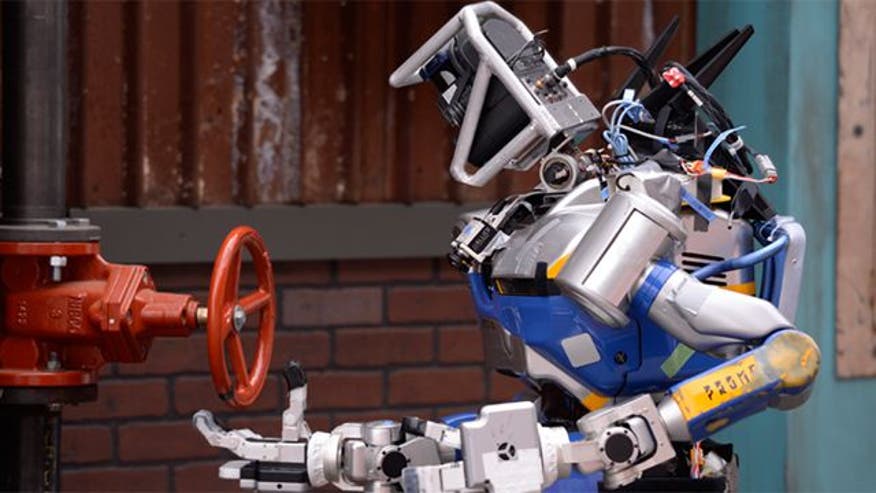 While "Terminator Genysis" brings back a fictional world ruled by robots to movie screens later this month, thanks to the U.S. military, the prospect of military robot military warfare became closer to reality thanks to the 2015 DARPA Robotics Challenge.
Funded by the military's Defense Advanced Research Projects Agency (DARPA), the Robotics Challenge Finals were a sort of robot Olympics.
What were these robots like? Well, for a movie reference, think less "Terminator" and more "Chappie," since these robots are meant to save lives, not take them.
Through the challenge, DARPA presents a world where robots work alongside humans and perform work in dangerous environments so that humans can avoid life-endangering risk.
Some of the world's most advanced robots converged at the Robotics Challenge in an intense two-day series of events that ran from June 5 through 6 at Fairplex in Pomona, California. The public was invited to watch the robots compete.
Each challenge tested just how capable a robot is at providing assistance in natural or manmade disasters. All the robots are designed to be humanitarians.
During the competition, 23 robots battled it out for bragging rights and $2 million. Second place received $1 million and third place $500,000.
The robots
A dozen teams from the United States joined another eleven teams from around the globe like Hong Kong, Japan, Italy, Germany, the Republic of Korea, and China took part in the event.
RoboSimian from NASA's Jet Propulsion Laboratory and the CHIMP robot (CMU Highly Intelligent Mobile Platform) from Carnegie Mellon University's Tartan Rescue team were two American robots competing in the games.
The DRC-Hubo robot from South Korea took first prize while American robots Running Man from Team IHMC Robotics of Pensacola, Florida and CHIMP from Team IHMC Robotics of Pensacola, Florida and Tartan Rescue of Pittsburgh, Pennsylvania took second and third, respectively.
The DRC-Hubo robot from South Korea (DARPA)
There were multiple competition rounds that each entry had to complete before entering the finals this year.
In December 2013, 16 teams competed in the DARPA Robotics Challenge Trials in Florida, while 11 teams qualified for the finals. In March 2015, 14 additional teams qualified to take part in the challenge. To get to the finals, robots had to show mastery of eight physical tasks. Robots had to prove mobility, manipulation, dexterity, perception, and operator control mechanisms.
What are the events in a robot Olympics?
To win, the robots had to conquer a very difficult eight-event simulated disaster course and all the challenges relate to disaster response. Each robot had one hour to complete the course.
The robots had to drive a vehicle to a simulated disaster zone by itself, get out of the car and then walk about 300 feet over a field of rubble like debris.
Once the robot got to the disaster site, it had to shut off a valve, connect some wires, cut a hole in a wall, climb a flight of stairs, and then exit a building.
The robot teams knew about and trained for these challenges in advance. DARPA threw in a surprise task at the event so that the robots had to adapt on the fly.
Robots received points for each task they successfully completed. The robot with the most points won.
Each robot also had to exhibit an extra layer of complexity.
In real disasters, operators might have to struggle with degraded or disrupted communications with their robots. The challenge incorporated this complexity. Robots had to overcome the physical challenges while dealing with disrupted communications with their operator humans. To win, robots had to prove they could do basic tasks to help in a disaster all on their own without direction from a human.
A new generation of humanitarian robots
The Robotic Challenge has its roots in the 2011 Fukushima Daiichi Nuclear Power Plant disaster nuclear disaster in Japan, brought on by an earthquake and tsunami. Understandably, it was very dangerous for human first responders to enter the radioactive environment to intervene.
While advanced robots could have gone into the radioactive environment to investigate and take action, in 2011, these kinds of robots did not exist.
NASA's Jet Propulsion Laboratory's RoboSimian (DARPA)
The following year, DARPA launched the Robotic Challenge to solve this problem.
The event has helped accelerate robot development over the past three years.
Dexterity and robustness were two important areas that needed to be significantly advanced for robots to be useful in a disaster.
"This is the end of the DARPA Robotics Challenge but only the beginning of a future in which robots can work alongside people to reduce the toll of disasters," said DARPA Director Arati Prabhakar, on the challenge's website.
While this was the final stage of DARPA's Robotic Challenge, there are other similar international robotics events underway.
All of the robot action is available to view online through the DARPA YouTube channel.
Ballet dancer turned defense specialist Allison Barrie has traveled around the world covering the military, terrorism, weapons advancements and life on the front line. You can reach her at wargames@foxnews.com or follow her on Twitter @Allison_Barrie.