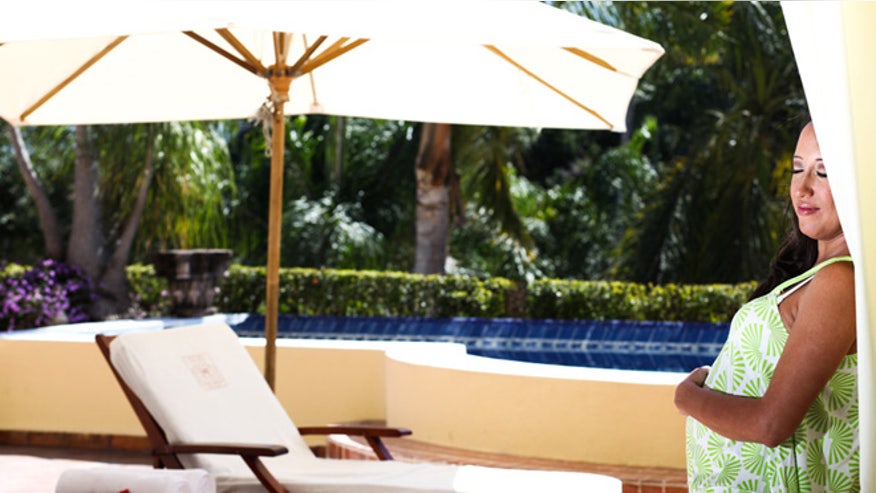 Pregnancy does have its perks. ;Hotels are increasingly offering luxurious services for couples looking for some last minute romantic time before the baby comes. ;Here's a look at some amazing services they offer. ;
First comes love. Then comes marriage. But before baby is in the baby carriage, as the children's rhyme goes, a couple's retreat — or babymoon — could be exactly what the doctor ordered, and a break the expectant mother desperately needs.
Over the past decade, babymoons have grown in popularity, as busy parents-to-be try to juggle work and prepare for the life-changing reality of a newborn. Hotels and resorts –from far-flung destination to those closer to home –have heard the call, creating all sorts of luxurious services–from mouth-watering menus to that cater to the expectant mom to private photo sessions to capture the memorial moments.
After I found out I was pregnant last spring, I started investigating what type of pampering babymoon would be the perfect celebration for me and my husband.
In July, at 23-weeks pregnant, we flew to Puerto Rico for our week-long babymoon. With a little research we scored a great deal and stayed at Las Casitas Village, which is a four-and-a-half star Waldorf-Astoria resort. From the first class service to the multiple pools on location, we soaked up the sun, relaxed and focused on just the two of us before the baby comes. Even though I couldn't take advantage some of the facilities like the jacuzzis at the famous Golden Door Spa, the mommy-to-be treatments were a delight.
"Pregnant moms should discuss how their pregnancy is going and whether there are any contraindications to travel."

– Dr. Cynthia Gyamfi-Bannerman, medical director for perinatal clinics at New York-Presbyterian Hospital/Columbia University Medical Center
But a babymoon could end up getting a little bumpy for couples if the trip isn't well planned.
If you're looking into babymoons, there are many factors to keep in mind – such as when the expectant mother can travel, what amenities or activities to look for or avoid – and most importantly, what will make the experience special for the soon-to-be parents. Resorts and hotels offer a huge variety of special packages and promotions specific for these travelers. Finding the perfect itinerary is just a matter of determining what will make – or possibly skip – what could take away from your special getaway.
FROM THE MEDICAL SIDE
Before booking flights, hotels or even picking a week to take time off, make a point to ask your OB-GYN doctor specifically about flying and staying a distance away from home. Dr. Cynthia Gyamfi-Bannerman, medical director for perinatal clinics at New York-Presbyterian Hospital/Columbia University Medical Center, says she recommends a babymoon – assuming the mom-to-be checks with her doctor prior to making travel arrangements.
"Pregnant moms should discuss how their pregnancy is going and whether there are any contraindications to travel," said Gyamfi-Bannerman. "Assuming there are no contraindications to travel, the American Congress of Obstetricians and Gynecologists (ACOG) recommends domestic travel ceasing by 36 weeks and international travel by 35 weeks. Of course, this should be individualized to the patient."
When looking for a place to take a babymoon, Gyamfi-Bannerman says there are several things women be aware of.
"Patients should make sure there are not health epidemics in the region they plan to visit," said Dr. Gyamfi-Bannerman. "It is probably not the best time to go to a place where the water supply and other elements of basic hygiene are questionable. It is not the best time to try undercooked foods or food to which you cannot be certain of the cleanliness of preparation."
She also encourages caution for her patients when going through airport security.
"Some airports have the new X-ray scanners," said Dr. Gyamfi-Bannerman. "Pregnant women should avoid these if they can in favor of the older metal detectors. If the metal detectors are not an option, you can opt out and be patted down."
MOMMY-TO-BE PACKAGE PERKS
Once cleared medically for travel, the exciting planning stage can begin. From personal shopping services to cravings menus to couples massage classes, many babymoon packages can satisfy even the most unique wants – and let's be real – needs of a mommy-to-be.
Prenatal yoga classes are offered at a variety of destinations – including the Parrot Cay Resort in Turks and Caicos.
"The instructors at Parrot Cay are trained for prenatal yoga and will ask when you are expecting because this affects some of the exercises and position choices," said Chloe Gayton, the director of sales and marketing for MyTurksAndCaicos.com and also a mom of two. "Prenatal yoga nourishes your body, mind, and baby, and is a great way to prepare for the main event."
If you're looking to relax without having to put in any energy, some resort spas offer special services specific for the expecting. Hotel ZaZa Houston and Hotel ZaZa Dallas have a "Womb Service Menu" to meet these needs.
"Our 'Prepare' body treatment helps nurture moms-to-be with a gentle full-body scrub and cooling rose gel wrap to enhance the skin's elasticity and rehydrate to prepare mind and body for delivery," said Laura Parsons, the complex director of ZaSpa. "…ZaSpa therapists are technically trained to assist in alleviating the unique aches and pains that expectant moms experience."
And if you're looking to make the massage last even after flying home, a couples massage class at the Playa Grande Spa by Solmar in Cabo San Lucas, Mexico could be exactly the perfect touch.
"The 'One-to-One Massage' class is the perfect choice for babymooners, as it allows them to reconnect through this interactive treatment," said Irena Ugalde Nadal, the spa director at Playa Grande Spa by Solmar. "The skills learned during this class will especially come in handy when trying to adjust to their lifestyle as new parents. Learning some basic massage techniques can benefit both mom and dad during those first few stressful months of parenthood."
While some parents-to-be might miss being able to have alcoholic drinks during the babymoon, hotels like Trump SoHo in New York offer healthy 'mocktails' for mommies-to-be as well, as a pillow menu to help comfort her growing tummy and aching back as she sleeps.
It's not just about the drinks. The Ritz-Carlton in Half Moon Bay, California created a menu specifically with pregnant guests in mind. The "Babymoon Cravings Menu" features a s'mores kit, pretzels and cheese dip, banana split, fries and root beer float, ice cream and pickles, and yogurt parfaits among other options.
"Our hope is that our menu offerings anticipate the spectrum of pregnancy cravings, from sweet to salty and everything in between," said executive chef Xavier Salomon at the Ritz-Carlton in Half Moon Bay.
As these trips come to an end, it could seem sad to see the picture-perfect, carefree days fading away fast. You can keep those memories with you by booking a professional photography session on the trip. The Casa Velas resort in Puerto Vallarta, Mexico offers just this as part of its babymoon.
"The photo shoot for the couple is taken during their stay in different areas at Casa Velas and at the resort's private Ocean Club," said Aurora Ubeda, the sales manager of Casa Velas. "The photographer is Roberto Aceves, who will provide the couple with a photo album of the experience at the end of their stay."
FLAUNTING THE 'BUMP'
Whether it's the hotel staff or fellow guests, some mommies-to-be say they're pleasantly surprised by exceptional service or attention while enjoying their special retreat. As a security officer recently remarked to me at the U.S. Open in Flushing, Queens, "work what you've got" – referring to my growing tummy – as he escorted me to the front of the elevator line.
Lindsey Sax Bovolick of Rocklin, Calif. says while vacationing at the Hyatt Regency at Incline Village in Lake Tahoe before having her first baby, her baby bump drew welcomed attention.
"One guy that sat next to us at the pool one day while we were laying out and relaxing bought us all of our drinks and our lunch – all of my virgin drinks of course – as a congratulations," Sax Bovolick said. "Also, one night at dinner, a random couple bought us an appetizer, and we never even found out who it was. And while we were walking over to the beach one day from the hotel, a guy on a golf cart stopped and asked if we wanted a ride, as he could see how pregnant I was, so that was very nice to be able to save some walking in the heat."
Other women say their growing mid-section scored them benefits at their hotels.
"They upgraded our room when they saw my belly – didn't ask for any, it was just offered," said Jennifer Stagg of Salt Lake City.
And in case the hotel check-in counter, spa or restaurant doesn't seem to notice or if the mom-to-be isn't quite showing, it might not hurt to mention the reason for the celebratory vacation.
FOCUSING ON YOUR ROMANTIC RELATIONSHIP
Every new parent knows that it's quite a change when a baby arrives. Sometimes the dynamics of an expanding family and a demanding newborn can sometimes strain relationships. Many new moms suggest babymoons as a way to reconnect and invigorate a marriage or partnership before the baby makes his or her debut.
"A must-have element is just time together with your significant other – doing something that you both enjoy," said new mom Jenna Mullen of Watertown, Mass. "Time together becomes so much trickier and stressful when the baby comes. It's good to strengthen relationships because babies can be trying on even very happy and stable relationships."
And for those who are thinking the babymoon is all about the mommy-to-be, fathers-to-be can expect to benefit greatly from these trips as well.
Jon Black of Alexandria, Va. took his wife to Paris before having their first child and then to Italy before their family expanded to four. He says the babymoons were essential.
"It was important for me to use the trip to celebrate us, celebrate our years as a young married couple, celebrate the sweet daughter that would soon join us, (and) celebrate the journey of the Black family that lay ahead," Black said. "Few things in life merit more celebration than new life, and we were a part of it. We live in a busy city with busy careers. We knew that life would only get busier once the kids came around. If you can't take time to celebrate each other and the blessing of a new child and of our family, none of the everyday chaos is really worth it."
FAMILY BABYMOONS
For some families, a couple's retreat might not be possible or parents may want to spend time with their other children before the new baby arrives. If the traditional romantic adult-only getaway doesn't fit your needs, Great Wolf Lodge has eleven locations throughout North America and suggests a 'familymoon' to help the entire family enjoy precious moments together while still allowing mom a relaxing experience.
"At Great Wolf Lodge, everything is under one roof, so mom does not have to plan a complex vacation," said Susan Storey, the communications director for Great Wolf Lodge. "From relaxing and splashing together in the indoor water park, to enjoying 'Mommy and Me' pedicure, to cuddling during Story Time, she only has to focus on being with her family. And – with several restaurants onsite, and cozy resort suites, at Great Wolf Lodge, mom can forget about cooking and cleaning for a few days."
Jennifer Clark Chappell from New York City and her husband took their three-year-old daughter with them on a 'familymoon' trip to Hawaii while they were expecting their second child. She says it was special to have 10 days to focus on their family of three before it grew to four.
"It was so nice being able to spend time with her before the new baby came, and just focusing 100-percent on her needs and doing fun activities together," Clark Chappell said. "In fact, she still talks about going to Hawaii almost two years later."
TAKING ADVANTAGE OF THOSE LAST CHILD-FREE MOMENTS
Dr. Gyamfi-Bannerman – who is a mother of two children herself – gives one final piece of advice for the expecting to keep in mind as they make the most of their adult-only vacations.
"They can be fun, but it was weird not to be able to enjoy a glass of wine or two while on vacation," Gyamfi-Bannerman said. "You definitely feel more tired, but I would highly recommend a babymoon. Once the baby comes, you have a new boss in terms of your schedule!"