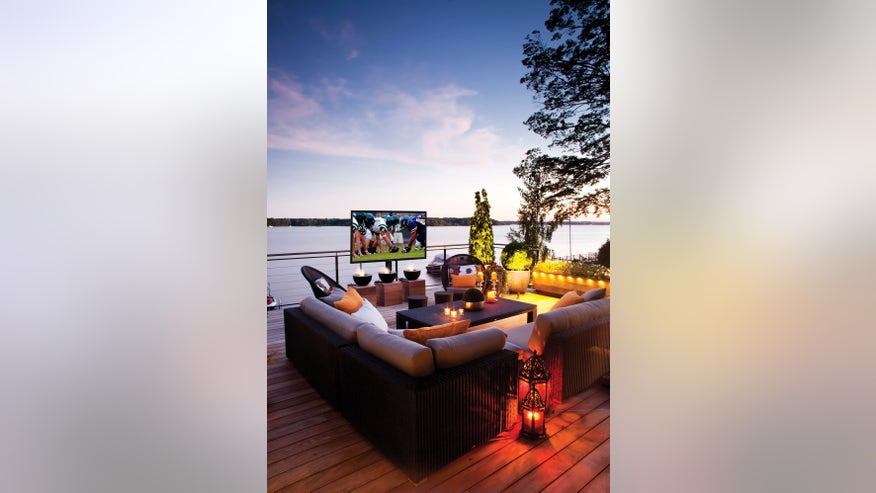 The Fourth of July weekend doesn't have to involve an underwhelming fireworks display and too many ants at your picnic. This techie gear lets you watch a fireworks display in living color (even if it is happening in Central Park), grill up some steaks, and even make an HD home movie you can share on YouTube after the sparklers fizzle out.
1. SunBriteTV 46" Outdoor Television ($2,895)
The term "glare free" is really important for an Independence Day party. Guests will be able to view this outdoor television from the deck or by the pool. (For viewing in direct sunlight, consider the slightly more expensive Pro series from SunBrite.) The TV is completely weatherproof, so you can leave it outside all year long. It even regulates its internal temp to match the heat (or cold).
2. Char-Broil Commercial Tru-Infrared 4-Burner grill ($449)
Not everyone can be a grill-master. With this high-tech model from Char-Broil, sold only at Lowe's, you don't have to be an expert. The TRU-Infrared tech combines an even heat distribution using four burners to avoid flare-ups. This model also has a side grill plate for cooking food warm; the propane tank gauge helps you track your fuel level.
3. MHD Sport 2.0 Wi-Fi Action Camera ($199.99)
This low-priced action camera, an obvious competitor to the GoPro line, captures HD video and lets you control the camera using a wrist-worn remote. You can also snap still photos as high as 16 megapixels. The 140-degree wide-angle lens captures all of the activity. For your party, consider adding a chest-mounted strap for about $11 to record a first-person view.
4. Enevu Cube lights ($29.90)
Add a few of these low-cost LED lights to your picnicking festivities. You can create an atmospheric tone or help people find their way around the campfire. Each unit shines brightly at 100 lumens and come in a variety of colors like bright blue and red. They run on a replaceable AAA battery so you don't have to bother with charging them up.
5. Outdoor Technology Kodiak Plus battery charger ($99.95)
Your party-goers will need a way to charge up their gadgets. This portable and fully waterproof charger (submersible up to three feet for 30 minutes) comes in a patriotic bright red for the Fourth. It will charge an iPhone about four times or an iPad twice using two USB ports. Yet it weighs just under 10 ounces so it's portable enough to keep in your back pocket.
6. Xsories X-Project Wi-Fi projector ($499.99)
Most outdoor projectors are not that portable — they are hulking beasts you have to lug around each time you want to show a movie on the side of your house or with an outdoor screen. This palm-sized model shines at a bright 100 lumens. You can play HD movies from the SD card port, online sites like Amazon Instant Video over Wi-Fi, or a USB thumbdrive.