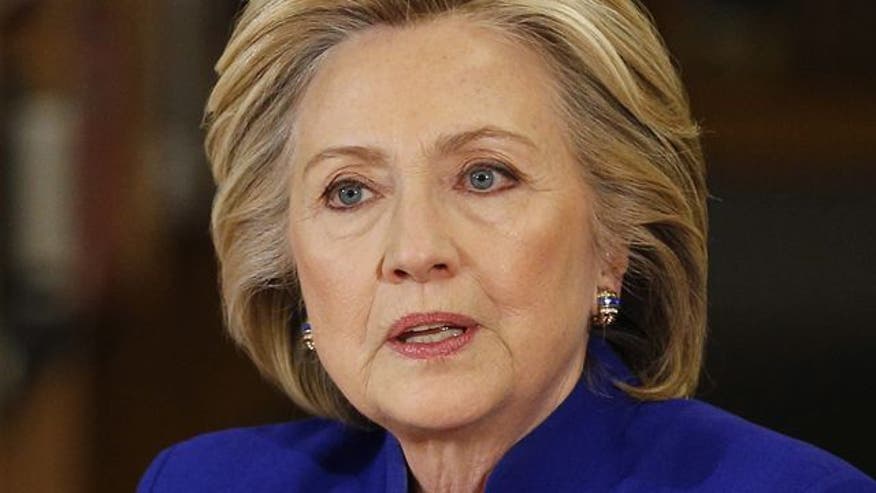 **Want FOX News First in your inbox every day? Sign up here.**
Buzz Cut:
• Uncovered audio: Hillary was 'adamantly against illegal immigrants'
• Clintons on campaign cash: If disclosure 'looks bad,' don't disclose
• Where's Jeb? The whale is getting ready to surface
• Can Cameron come out ahead in U.K. kerfuffle?
• But the caucuses were really something
UNCOVERED AUDIO: HILLARY WAS 'ADAMANTLY AGAINST ILLEGAL IMMIGRANTS'
The RNC today is shelling presumptive Democratic nominee Hillary Clinton in her bunker with newly uncovered audio from a 2003 radio interview she gave as a senator. Apparently asked about the issue of illegal immigration, which was a hot button in the state at the time, Clinton swung hard: "I am, you know, adamantly against illegal immigrants." Clinton, on the campaign trail in Nevada Wednesday, promised to push for citizenship for those in the country illegally. She also vowed to go beyond President Obama's executive amnesty for an estimated 5 million illegal immigrants if Republicans do not acquiesce. Obama's order has so far been blocked by federal courts.
In the audio from the RNC of what the committee says is Clinton's interview with radio host John Gambling, Clinton calls for more border security and for employers to stop hiring illegal immigrants. "Come up to Westchester, go to Suffolk and Nassau counties, stand in the street corners in Brooklyn or the Bronx," she is heard to complain "You're going to see loads of people waiting to get picked up to go do yard work and construction work and domestic work."
CLINTONS GET CREATIVE ON CAMPAIGN CASH: IF DISCLOSURE 'LOOKS BAD,' DON'T DISCLOSE
If you thought that Hillary Clinton would be more bashful about buckraking given the current scandals surrounding her family finances and those of its foundation, you haven't been paying attention. Clinton is vacuuming up money in California this week, but behind the scenes her campaign is busy blurring lines on campaign cash. First, Clinton will do what Democrats once reviled and raise cash for her super PAC. President Obama endorsed his super PAC, but stopped short of plumping for checks. (Candidates can't legally make the ask, but they can probably stand next to the guy with his hand out – wink-wink, nudge-nudge – and swear up and down that they are not coordinating their efforts.)
Second, Clinton is so far not disclosing the identities of the bundlers, the mostly wealthy partisans who collect checks from their friends for campaigns. You know – bundlers. Releasing the names is not a legal requirement, but it has been standard practice for presidential candidates of both parties. You'd think Clinton would want to be more forthcoming about where her money comes from these days. But as her husband said​, "Any kind of disclosure is a target" that it "looks bad." So the answer to the lengthening list of questions for the candidate and her campaign is less disclosure and more blurry fundraising lines.
Who made varsity this season? – A memo obtained by Bloomberg gives all the names of Clinton's campaign A-team this time around. Not a lot of familiar faces, signaling a desire for change in this election cycle.
No pictures allowed, Clinton Foundation guests gather in Morocco – ABC News: "When ABC News producers attempted to take pictures of guests arriving at the front entrance, Moroccan police threatened their arrest. The foundation's spokesman initially professed not to know where the reception was being held, and the location was among the only not included on schedules handed out to the media and published online."
Hillary personal email use 'not acceptable' says State Dept. – The Hill: "Former Secretary of State Hillary Clinton's use of a personal email account run through a private server was 'not acceptable' and happened without officials' knowledge, a top State Department record-keeper said on Wednesday. 'I think the message is loud and clear that that is not acceptable,' Joyce Barr, the State Department's assistant secretary for the Bureau of Administration, testified before the Senate Judiciary Committee."
TRADE ROILS BOTH PARTIES AS AIR OBAMA HEADS TO NIKE
As he laces up to tout his trade deal at Nike's Oregon headquarters – an intriguing choice given the company's sweat-shop past – President Obama's push for fast track authority is proving to be far from a slam dunk in Congress. Indeed, with Obama pressing reluctant Democrats, Senate Majority Leader Mitch McConnell and Speaker John Boehner are trying put a buzzer beater. But opposition to the deal is stiff on both sides of the aisle and the pact is no more popular with Sixteeners of both stripes. Breaking with GOP frontrunners who support the deal, presidential candidate Mike Huckabee trash-talked the trade pact, warning that American workers could "take it up the backside" under the current proposal. "Fast-track means nobody's paying attention," Huckabee said. Among Democrats, Vermont Sen. Bernie Sanders and former Gov. Martin O'Malley are strongly opposed. And where is Hillary Clinton in all this? On the bench, where she says she's "watching closely."
Bernie heckles – "Nike epitomizes why disastrous unfettered free-trade policies during the past four decades have failed American workers, eroded our manufacturing base and increased income and wealth inequality in this country," Democratic candidate Sen. Bernie Sanders, D-Vt., penned in a letter to the president Tuesday. "Just don't do it," Sanders wrote.
Why Nike? – National Journal takes a detailed look at the apparel giant, which is headquartered in the U.S. but does most of its business overseas: "Nike made $12.4 billion in profits last year, thanks in large part to 1 million subcontracted workers at factories primarily in low-wage countries in Asia. For years, the company has faced allegations that a number of those factories use sweatshop conditions and illegally low wages to produce sneakers and clothes that Nike then sells in much wealthier countries."
WITH YOUR SECOND CUP OF COFFEE…
One of the most famous photographs in sports journalism is of the 1965 game between rival schools Deerfield Academy and Mount Hermon in which the game went on before full stands as a huge fire consumed Mount Hermon's science building right behind the bleachers. Would you like to know the story behind the famous photo? NYT has the details: "Halftime came. Officials conferred about how to handle the nettlesome situation. In a decision that surely would not be made in today's safety-conscious, litigious world, they decided it would be better if the teams just carried on. 'We were told to suck it up and play,' [one Mount Hermon player] recalled."
Got a TIP from the RIGHT or LEFT? Email FoxNewsFirst@FOXNEWS.COM
POLL CHECK
Real Clear Politics Averages
Obama Job Approval: Approve – 46.1 percent//Disapprove – 49.2 percent
Direction of Country: Right Direction – 29.5 percent//Wrong Track – 61.1 percent
WHERE'S JEB? THE WHALE IS GETTING READY TO SURFACE
As three more fish joined the growing school of Republican presidential candidates this week, the whale in the race, former Florida Gov. Jeb Bush has be staying far below the surface. Bush has been quiet lately, with no public events and an under the radar op-ed in the Chicago Tribune. Some advisers told the WaPo not to expect an announcement for at least a month. But others have told Fox News First that the official announcement will be sooner than that and done in a low key manner – as might befit a candidate with 99 percent name recognition among Republican voters. (While a candidate like Scott Walker, still unknown to 1 in 5 Republicans in the latest WSJ/NBC News poll needs a lift from his eventual launch, Bush will be risk-averse.) So when does the whale of a candidate come to the surface? Perhaps his speech at Liberty University's commencement this Saturday will be just that spray.
How Jeb sank Christie – National Journal: "From the time a Bush candidacy started looking more likely, the wind came out of [New Jersey Gov. Chris Christie's] presidential sails to the point when he was effectively dead in the water. It was mostly because Bush filled a void that Christie planned to fill in himself. The bridge mess was just icing on the cake."
[Gov. Christie starts another two-day tour through New Hampshire today.]
Rubio snags top-drawer Nevada state director – Las Vegas Review-Journal: "U.S. Sen. Marco Rubio on Wednesday gained a strong ally when Lt. Gov. Mark Hutchison announced would be the Florida senator's presidential campaign director in Nevada…[Hutchinson] noted Rubio's family ties to the Silver State, having lived in Las Vegas for six months while growing up. His father was a bartender and his mother a maid."
Paul pays up for his own name – National Journal: "Days before [Rand Paul] launched his bid for president, his campaign shelled out more than $100,000 to a domain-buying firm to purchase a 'domain name.' Soon after, RandPaul.com, which had previously been a pro-Paul site run by his fans, emerged as the official portal for the campaign. Federal campaign records show Paul used his Senate reelection committee to pay $100,980 to Escrow.com, a domain service, on March 27."
Carson meets with community leaders in Baltimore – Baltimore Sun: "Dr. Ben Carson, the former Hopkins neurosurgeon who announced his candidacy for president this week, will visit with Baltimore faith and community leaders on Thursday…A spokeswoman did not respond to a request to clarify if Carson's visit is related to the Freddie Gray case. Carson is also set to speak to at a Maryland Right to Life banquet later Thursday evening in Woodlawn."
"And we have to re-instill that can-do attitude that is so important in our nation. It's what drove this nation from no place to the pinnacle of the world, and the highest pinnacle anybody else had ever reached. And it doesn't have anything to do with one's ethnicity. It has to do with the American spirit." – Ben Carson on "The Kelly File."
Huckabee strategy: Focus south and skip New Hampshire – Union Leader: "That Huckabee question looms large as the GOP field expands and the former Arkansas governor is reported to be concentrating on the first caucuses in Iowa and the southern primaries in the weeks after New Hampshire's leadoff contest…Huckabee received 26,916 votes in the New Hampshire primary in 2008. Chuck Norris is again on the Huckabee bandwagon. How many of his old friends in the Granite State will say the same?"
As he cuts a deal with a former rival – The ad man famous for producing the "Willie Horton" ad in 1988, and working with Gov. Mitt Romney, R-Ma., in 2007 will host a Huckabee fundraiser in Phoenix on May 14, political strategist and producer Floyd Brown confirms to Bloomberg.
[Day two of Huckabee's "Factories, Farms and Freedom" tour includes meet & greets at Charlie's American Grill in Sioux City and the Pizza Ranch in Cedar Rapids.]
Perry defends tuition for illegal immigrants – Dallas Morning News: "[Former Texas Gov. Rick Perry] then had another chance to explain his support of the so-called Dream Act after a speech that focused on foreign policy. In answering a query from Jorge Baldor, founder of the Latino Center for Leadership Development, Perry said it made sense to educate children brought to the state illegally, but 'through no fault of their own'…'The fact is you're either going to have givers or takers,' Perry said, 'If you're not going to educate, and allow these kids to go through that process and become a giver, because they've been educated, then I would suggest you've been focused on the wrong issue.'"
Santorum announces he's announcing – Former Sen. Rick Santorum, R-Pa., announced to Greta Van Susteren last night that he will announce his 2016 plans in his home state on May 27. Watch the clip here.
Fiorina rollout rolls on – Carly Fiorina gives a speech at a Dallas County GOP event in West Des Moines, Iowa and hosts a few meet and greets today.
Snyder not running? – Despite murmurings of a potential run two sources tell Politico Gov. Rick Snyder, R-Mich., is not running. A Snyder spokesperson declined to comment.
Campaign cinema – Sen. Marco Rubio, R-Fla., has a new campaign video out today that highlights his vision of a new America with a New Hampshire backdrop. Gov. Rick Perry, R-Texas, also uses New Hampshire to show his connections with voters. Gov. Mike Huckabee's video focuses on commitment to family and faith.
CHANGES TO THE IOWA STRAW POLL LOOK GOOD FOR CANDIDATES
The traditional Iowa straw poll will be a little different this time around with a lot less pressure on the candidates. The event hosts are taking a lot of the cost for real estate and food on themselves, but candidates now need to be nationally viable candidates that are part of the discussion. Check out this op-ed for all the details.
THE JUDGE'S RULING: DEFLATE THE PATRIOT ACT
With the Patriot Act up for renewal on May 31 Senior Judicial Analyst Judge Andrew Napolitano analyzes the constitutional complications of the law and a growing movement called 'Restore the Fourth,' that advocates ending the Patriot Act under the Fourth Amendment. President Obama and Republicans agree on the renewal, but should they? Read here for the judge's take.
CAN CAMERON COME OUT AHEAD IN U.K. KERFUFFLE?
Voting is in full swing in Britain and polls won't close until 5 p.m. ET. What will happen? No one seems to know except that result will be messy as either of the two major parties are likely to need the help of at least one smaller group – liberals, Scottish separatists, anti-European Unionists, etc. – to build a majority coalition. Lacking an executive branch, Britain's system gives control of the entire government to the party which wins a vote equivalent to the vote for speaker of the House of Representatives in the U.S. With polls showing neither the Labour nor Conservative parties likely able to win the 326 seats necessary to win an outright majority, control of the government for America's most important ally will hinge on deal making with the niche parties. Can Prime Minister David Cameron and his Tories cling to power? Will Scots have their revenge by helping Ed Miliband and Labour topple the current ruling coalition? It is quite likely to be a mess. Lucky for you then that SkyNews will have all of the details.
Bibi survives with last-minute deal – AP: "Israeli Prime Minister Benjamin Netanyahu on Wednesday completed the formation of a new coalition government, reaching a last-minute deal with a nationalist party just before a midnight deadline. The late-night deal saved Netanyahu from the unthinkable scenario of being forced from office. But it set the stage for the formation of a narrow coalition dominated by hard-line and religious parties that appears to be on a collision course with the U.S. and other allies."
BIG NAMES LINE UP FOR MEMORIAL DAY PARADE
The list of participants and entertainers for the May 25 National Memorial Day Parade on the National Mall is out this morning: Actors Gary Sinise and Joe Mantegna; television chef Robert Irvine; musicians Billy Corgan of Smashing Pumpkins, Caleb Johnson from American Idol and country singer Beau Davidson; Miss America 2015 Kira Kazantsev, TNA Wrestling stars including Army vet Chris Melendez; and martial music and displays from the Marine Corps Equestrian Color Guard, the U.S. Army Band and marching platoons from all service branches. Get more info from American Veterans Center.
BUT THE CAUCUSES WERE REALLY SOMETHING
Reuters: "The Australian Sex Party, a tiny party known for its salacious name and election day antics, said on Thursday that it had been deregistered after the country's election watchdog ruled it did not have enough activists. Co-founder Robbie Swan said in a statement that the party would 'vigorously' appeal a decision handed down by the Australian Election Commission (AEC) that removed its official status following a review of its membership. Under Australian law a political party must have either an elected representative in the federal parliament or 500 members to keep its registration. The Sex Party has one lawmaker in the Victoria state legislature, but none at federal level."
AND NOW A WORD FROM CHARLES…
"[President Bill Clinton] said there was a guy who said he put the information in the wrong box, and now he says we have no idea how this information was left out. It's sort of amusing. It reminds you of what they said about a lot of other stuff they lied about consistently in the '90s. And this is just a guarantee that if we elect Hillary, we're going to get this for another eight years." – Charles Krauthammer on "Special Report with Bret Baier."
Chris Stirewalt is digital politics editor for Fox News. Want FOX News First in your inbox every day? Sign up here.
Chris Stirewalt joined Fox News Channel (FNC) in July of 2010 and serves as digital politics editor based in Washington, D.C. Additionally, he authors the daily "Fox News First" political news note and hosts "Power Play," a feature video series, on FoxNews.com. Stirewalt makes frequent appearances on the network, including "The Kelly File," "Special Report with Bret Baier," and "Fox News Sunday with Chris Wallace." He also provides expert political analysis for Fox News coverage of state, congressional and presidential elections.