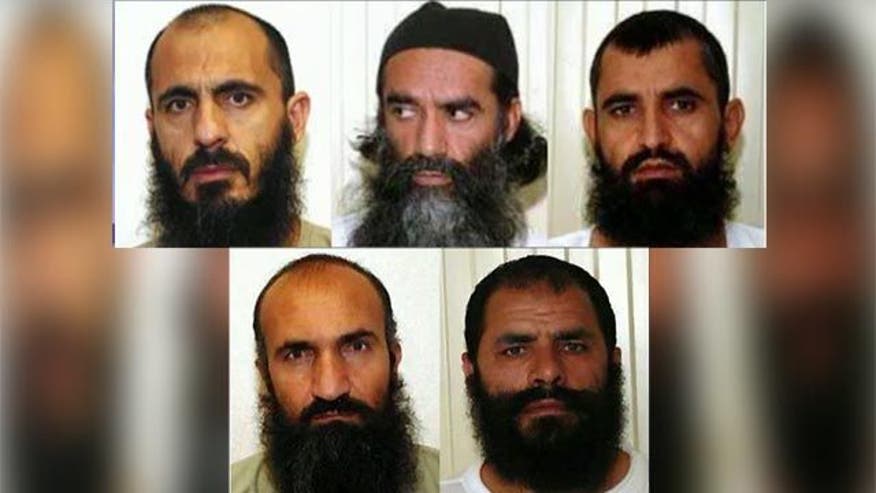 The Obama administration reportedly has launched talks with Qatari officials about potentially extending security measures for the five Taliban leaders who were traded a year ago for Sgt. Bowe Bergdahl, with the agreement governing their supervised release soon set to expire.
The Washington Post reported that talks began Thursday, and could lead to some aspects of the security arrangement being extended. That pact — which keeps the former Guantanamo inmates under supervision in Qatar and prohibits them from leaving the country — is set to expire at the end of May, raising concerns in Washington that they could soon return to the battlefield.
Fox News reported in March that, according to a government official familiar with the intelligence, at least three of the five have tried to plug back into their old terror networks.
The Post reported that, amid these concerns, administration officials are putting several options on the table for keeping some restrictions in place. It's unclear whether Qatar would agree to any of them.
Asked by Fox News on Friday about the status of the reported discussions, State Department spokesman Jeff Rathke confirmed the administration is in talks to limit or "mitigate" the risk of former Guantanamo prisoners returning to terrorism.
While not mentioning the Taliban Five by name, Rathke did not deny the Post report that these talks are designed to extend the restrictions that expire at the end of the month.
Politically, the administration continues to take heat for last year's trade. After a lengthy investigation, Bergadhl is being brought up on desertion charges, just as the security agreement governing the ex-prisoner's release is set to expire. Officials surely want to limit their ability to contact their old networks in the months ahead.
Recently, the director of the Defense Intelligence Agency told Congress that, after that expiration, all his officers can do is warn the U.S. government if the men return to the battlefield.
"I've seen nothing that causes me to believe these folks are reformed or [have] changed their ways or intend to re-integrate to society in ways to give me any confidence that they will not return in trying to do harm to America," Rep. Mike Pompeo, R-Kan., a member of the House intelligence committee, recently told Fox News.
The Taliban leaders include Mullah Norullah Noori, a senior Taliban military commander described in government reports as a military mastermind of sorts who engaged in hostilities "against U.S. and Coalition forces in Zabul Province."
Another is Mullah Mohammad Fazi, the Taliban's former deputy defense minister.
Fox News' Catherine Herridge contributed to this report.