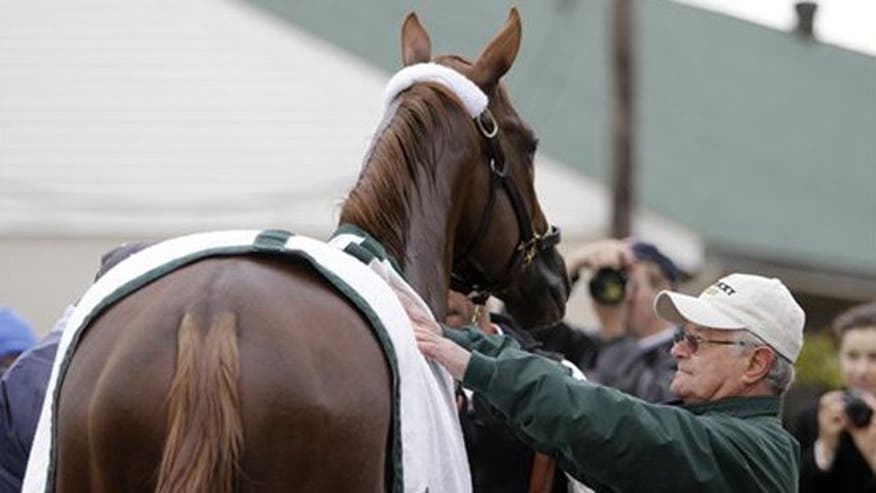 For a man who's never had a horse in the Kentucky Derby, Art Sherman, trainer of morning line favorite California Chrome, has plenty of Derby experience. He played a minor role in helping a legend win the Derby, seen the race run many times since and once had a horse almost good enough to enter the starting gate. But now a victory in America's most important race Saturday would make Sherman the oldest winning Derby trainer.
"I call myself the poor man's trainer," Sherman said recently with a hearty laugh. "I don't have high expectations of winning all the big races and stuff. I just like to win my share, have fun and at this stage of my life, I said, 'Gee, I have to wait 77 years to get this.' So it's been a long time coming."
Sherman's colt, California Chrome, has dominated the competition on the west coast this year. He's won his last four starts including an impressive win in last month's prestigious Santa Anita Derby. The Churchill Downs oddsmaker installed California Chrome as a solid 5-2 favorite who will break from the five post in the starting gate.
"I call myself the poor man's trainer. I don't have high expectations of winning all the big races and stuff."

– Art Sherman, trainer of Kentucky Derby favorite California Chrome
Because of that success, Sherman knows the jockeys on the 18 other horses in the race will have their eyes on California Chrome, who's easy to spot. "He's unique. He's got a big blaze down his face. And he's got four white stocking feet. So you don't have to worry about not seeing him."
Sherman says the horse made tremendous strides from last year calling his star green and immature. When asked for the secret to training such a quality horse Sherman said his magic formula is to keep all of his horses happy and not work them too hard.
Over the years, the Kentucky Derby is usually populated by two types of horses–those that are well-bred with well-heeled human connections and the no-hopers with human handlers less pragmatic or realistic than Sherman. "I'm thankful. I've never been jealous of anybody in this game," Sherman said. "I know how tough it is to get horses. I give [those other trainers] a lot of credit. They've got great clients that can afford to buy them pre-Derby winners….I've never had that kind of money behind me."
California Chrome has the typical humble background of most Sherman horses. But the mating of an unremarkable stallion with a mare who won only one low level race in her career has produced a talent that far surpasses his bloodlines. "Once in a while you get that mix that all of a sudden clicks. It's hard to come by," Sherman noted with a bit of wonder from his base at Los Alamitos in southern California two weeks ago.
Somewhere along the way California Chrome figured out his talent surpasses his pedigree and he now stands on the threshold of history. Quite simply, Sherman says, "he's a very special horse."
This isn't Sherman's first experience with a "special horse." As a teenager helping out in the barn of hall-of-fame trainer Mesh Tenney, Sherman accompanied the champion Swaps in a train from California to Louisville en route to victory in the 1955 Kentucky Derby. He slept on a bed of straw in the boxcar next to one of the best racehorses of the 20th century.
"It was quite a thrill," Sherman recalled. "You don't realize it until you get older and you look back and see what kind of horse he was. He had six world records. He was such a cool horse. He reminds me a lot of California Chrome and the demeanor. He was laid back. Nothing bothered him. They had the right attitude."
After that learning experience, Sherman spent the next two decades as a jockey where he found modest success. On several occasions he rode in races at Churchill Downs on Kentucky Derby day but never in the big race. Then as a trainer he once had a horse who came close to making the Derby field but was never entered. Over the years, he's won a handful of big races and entered horses in the prestigious Breeders' Cup but never had one good enough for the Derby–let alone be the favorite.
"It would mean so much to him," said Sherman's son Alan who helps run his dad's stable. "I don't think it would do anything — change him in any way. But he's definitely well-deserving of it. That's for sure. He's been in the game a long time."
California Chrome, which will start in the 5 post position on Saturday, made tremendous strides from last year, said Art Sherman, who said the horse was once immature. But somewhere along the way, the star figured out his talent, and surpassed his pedigree to stand on the threshold of history, he said.