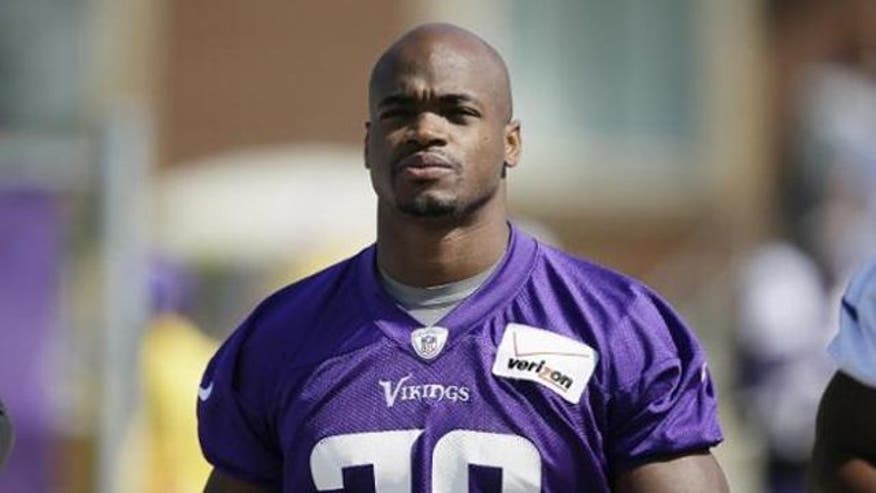 Hall of Fame quarterback Fran Tarkenton — perhaps the most recognizable Minnesota Viking in franchise history — is "embarrassed" by the team's decision to allow alleged child abuser Adrian Peterson to play this upcoming Sunday.
Tarkenton, 74, told FoxNews.com that Peterson, who faces up to 2 years in prison if convicted on charges of reckless or negligent injury to his 4-year-old son, has no business being on the sidelines this weekend as his case makes its way through the legal system.
"I'm embarrassed," Tarkenton said Tuesday. "And I was on the very first Vikings team that ever was. And I'm embarrassed.
"These are serious accusations," Tarkenton continued. "And the only way you're going to get the attention of an NFL player is to take away his paycheck and take him off the field. This is way above winning or losing a football game. I strongly disagree with the notion of playing him this week."
"They have a better chance of winning with their best player, that's the message they're sending."

– Fran Tarkenton
Peterson, 29, returned to the Vikings' headquarters on Monday in Eden Prairie, Minn. He did not speak to reporters, but issued a statement vehemently denying he is a child abuser.
"I am someone that disciplined his child and did not intend to cause him any injury," Peterson's statement read.
Vikings general manager Rick Spielman acknowledged that the situation is a "very difficult thing to handle," but ultimately said whether he went too far while disciplining his child is a decision for a court to make. They expect Peterson to play against the winless New Orleans Saints in New Orleans.
"They have a better chance of winning with their best player, that's the message they're sending," Tarkenton continued. "That is the message that's being sent by this action. Winning is more important than defending a 4-year-old child."
Tarkenton said he's received dozens of calls and emails from Viking fans since Peterson's arrest last week and virtually everyone, he said, was critical of the team's handling of the crisis. The quarterback, who went on to become a television host and pitchman, called on other former Vikings greats, including former defensive star Alan Page, to join the chorus of critics against the team. Page, who was the first player to win the league's MVP award as a defensive player in 1971, now serves as an associate justice of the Minnesota Supreme Court.
"We need to hear from Alan Page," Tarkenton said.
Page, meanwhile, declined an interview request Tuesday by FoxNews.com on the matter.
Tarkenton said NFL fans, particularly Vikings supporters, should consider whether they agree with the decision to allow Peterson to play.
"The fans ought to stand up and make their voices heard," he said. "Don't blame it on Roger Goodell or even the team. These issues of domestic violence and child abuse are big stuff. This is bigger than football. This is a societal problem and every living American knows it."
Commissioner Goodell and the NFL have also drawn heavy criticism for its handling of the domestic assault case against former Baltimore Ravens running back Ray Rice, who was accepted into a rehabilitation program after knocking his then-fiancée unconscious in an Atlantic City casino in February. But he said the Vikings "really got it wrong" by reconsidering their stance on Peterson after initially deactivating him.
"I am embarrassed and I think they it got right last week and they really got it wrong this week," he told FoxNews.com. "These people need to do the right thing."
Another Viking in football's Hall of Fame, ESPN analyst Cris Carter, also has voiced his support of benching Peterson. Carter said Sunday he was proud that the team benched him against the Patriots after discussing his own childhood experience.
"My mom did the best job she could do raising seven kids by herself, but there are thousands of things that I have learned since then that my mom was wrong," he said. "It's the 21st century — my mom was wrong. She did the best she could, but she was wrong about some of that stuff she taught me and I promised my kids I won't teach that mess to them.
"Take him off the field," Carter said.
Not all former Vikings, however, think Peterson is best suited on the sidelines this weekend. Walter "Chuck" Foreman, a running back for the team during the 1970s, told FoxNews.com he believes the franchise must have investigated the matter properly to make that decision.
"I agree with letting the system work itself out," Foreman told FoxNews.com. "I'm sure the Vikings did their homework. I think he should play."
Asked if that would change should Peterson be convicted, Foreman replied: "Adrian is a good man. He probably went a little too far, but I'm going to leave it at that."