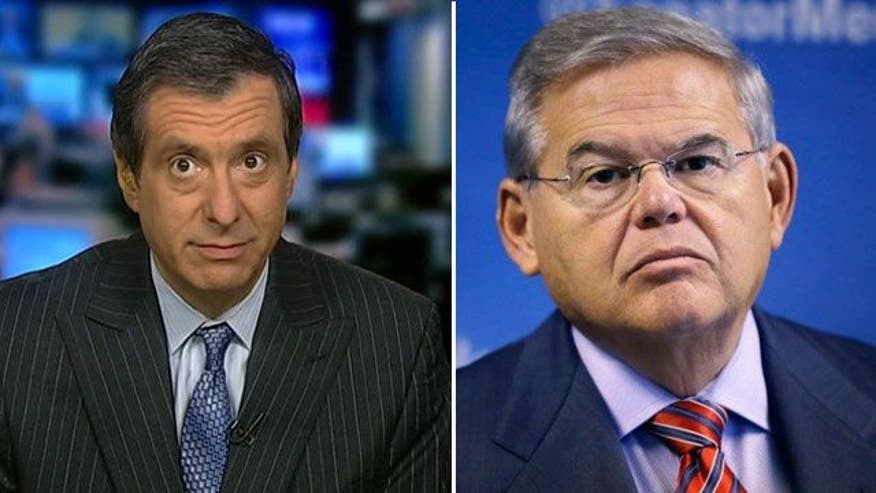 The Justice Department has a solid case against Robert Menendez, despite the conspiracy theories that the indictment amounts to political payback.
The pundits who say that don't know what they're talking about.
I used to cover the Justice Department, and the Public Integrity section, which handles corruption cases against politicians, is composed of career prosecutors who have a well-deserved reputation for independence. This is obviously a case of the Obama DOJ charging a Democratic senator with bribery. If the department had dropped the case, some of the same know-it-alls would be accusing the administration of squelching justice by letting Menendez off the hook.
Yet I've heard several commentators on the right—Rush Limbaugh, Mark Levin, some at Fox—say the indictment is political payback for Menendez's outspoken opposition to the president's nuclear negotiations with Iran, which produced a tentative deal yesterday. Menendez, who has stepped aside as the ranking Democrat on the Foreign Relations Committee, is a staunch defender of Israel.
The problem with that theory is that Justice has been investigating the New Jersey lawmaker for several years, culminating in Wednesday's indictment. As for the suggestion that the White House might have manipulated the timing, that would be an outrageous act of interference with a criminal investigation, the likes of which we haven't seen since the FBI was looking into Watergate.
I'm certainly not saying the Public Integrity section is perfect, as the unit utterly botched the case against then-senator Ted Stevens, whose conviction was overturned on grounds of prosecutorial misconduct. But I don't believe these indictments are brought or not brought based on partisan considerations.
Menendez, of course, is chief among those arguing that the case is just politics. "I am outraged that prosecutors at the Justice Department were tricked into starting this investigation three years ago with false allegations by those who have a political motive to silence me," he said after the indictment. But that's a common defendant's lament.
So what's the case against Menendez? It revolves around his doing official favors for Salomon Melgen, a friend and Florida eye surgeon. Politicians in such cases always say this is just normal constituent service.
But Menendez personally emailed a staffer to call Melgen about "a Medicare problem we need to help him with." An HHS official dealing with overbilling questions wrote that "we have a bit of a situation with Senator Menendez, who is advocating on behalf of a physician friend."
And—tabloid alert—the senator helped resolve visa problems for the 61-year-old Melgen to bring in his college-age girlfriends, who worked as models in Ukraine, Brazil and the Dominican Republic—which in one case was "ONLY DUE to the fact that R.M. intervened," a staffer wrote.
In return, the government says, Menendez took free trips on Melgen's private jet, and stayed in an executive suite at a five-star Parisian hotel (including "limestone bath with soaking tub and enclosed rain shower"). Oh, and Melgen's company gave $700,000 to a PAC earmarked for Menendez's 2012 reelection.
No wonder the New York Times is calling on Menendez to step down.
Menendez is presumed innocent until proven guilty. But the case bears striking similiarities to the luxurious gifts lavished on former Virginia governor Robert McDonnell and his wife by a friend, who in turn received lots of help for his business in dealing with state government. The McDonnells, too, said there was no quid pro quo, but they were convicted.
Forget partisan politics: With the kind of evidence that federal prosecutors amassed against Menendez, it would have been criminally negligent not to bring the case.
Click here for more Media Buzz.
media-buzz
Media Buzz, hosted by Howard Kurtz, airs on Sundays at 11AM and 5PM ET on Fox News Channel.