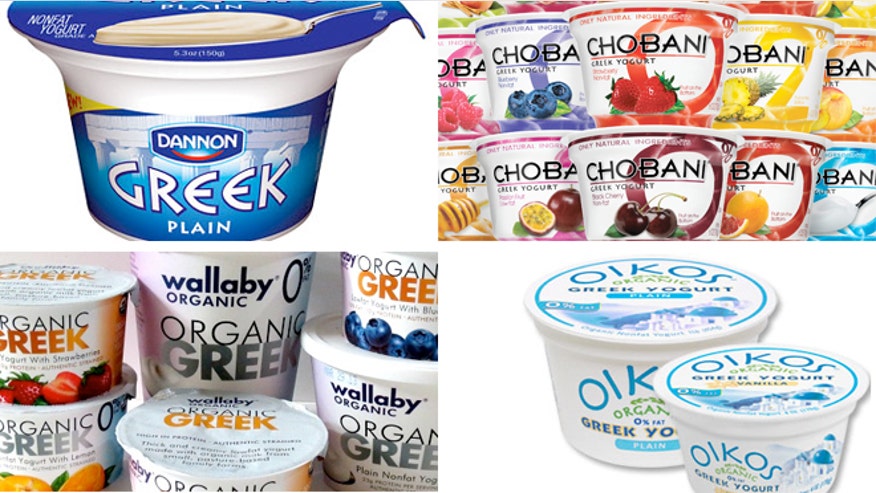 "I woke up one morning and I realized I was eating spackle," said America's Test Kitchen host, Chris Kimball, on a recent broadcast. He's talking about yogurt, a food that can feel less like breakfast and more like penance. That is, until Greek yogurt came along.
It's the Farrah Fawcett of dairy, going from nowhere to everywhere seemingly overnight. You can't swing a cat these days without hitting Greek yogurt.
"If food provides only novelty, it's a fad. If it saves time, money and has a halo of health, its here for the long run."

– Harry Balzer, chief industry engineer of NPD, a consumer marketing research firm.
Dairy case shelves bulge with endless cups of it. Post adds it to Honey Bunches of Oats. Manufacturers are blending it with cream cheese and even hummus. Pinkberry, the nation's top frozen yogurt retailer offers an exclusive non-frozen Greek yogurt for breakfast. And in the "please-make-it-stop" category, meet Powerful Yogurt, aka "brogurt" –Greek yogurt for men that "meets the health and performance needs of busy men living an active lifestyle."
According to the consumer market research group Packaged Facts, Greek yogurt's share of the refrigerated yogurt market has risen to 35 percent, up from a measly 1 percent in 2007. Packaged Facts forecasts that the overall market for refrigerated yogurt and yogurt drinks, worth $7.3 billion in 2012, will grow to $9.3 billion by 2017.
Thanks to Greek yogurt, New York surpasses California in yogurt production by more than 100 million pounds, according to Dairyreporter.com. Upstate New York has been dubbed the "Silicon Valley of Yogurt."
So what exactly is this stuff, how does it differ from regular yogurt, and why is it everywhere?
Yogurt is thousands of years old, says Pat Crocker, author of The Yogurt Bible (Robert Rose). Yogurt is milk that's heated to a specific temperature, slightly cooled, spiked with bacterial cultures, then kept at a constant low temperature for up to seven hours. Refrigerate for a few hours and you've got yogurt. It'll be thinner than store-bought as some manufacturers add pectin, starch, gum or gelatin to thicken. That's where Greek yogurt comes in.
It's traditionally made with whole cow or sheep milk and cream, "fed" streptococcus thermophilus and lactobacillus bulgaricus bacteria, then strained of excess whey which makes it rich and velvety. Whey removal, not additives, creates the creamy texture. It takes one cup of milk to produce one cup of regular yogurt and three or four cups to produce one cup of Greek, which is why it's also called "strained yogurt."
It's the perfect food: more milk means protein; straining also reduces salt and sugar; gut-friendly bacteria (aka probiotics) aid digestion and boost immune health. Its success lies in the creaminess of low and no-fat Greek yogurt. It's high-protein, no-fat, low-carb and low-sodium and feels fattening in your mouth.
"If food provides only novelty, it's a fad. If it saves time, money and has a halo of health, its here for the long run," says trend expert Harry Balzer, chief industry engineer of NPD, a consumer marketing research firm. For 35 years he's been analyzing what Americans eat every day. Greek, he says, is here to stay. So get used to pronouncing top brands "Fage," (FA-yay), "Chobani" (cho-BA-nee), and "Oikos" (OYK-os).
Balzer attributes Greek's growth to a yogurt-equals-longevity obsession that started in the 70s. Remember those Dannon commercials with ninety-year-old Soviet Georgians chopping wood and riding horses? "Fruit-on-the-bottom" Dannon dominated the market until the 90s when Yoplait, the pre-stirred, "yogurt of France," offered a smooth, pudding-like alternative.
Greek yogurt is the latest stage of America's love affair with cultured milk. We see ourselves as explorers in terms of diet, says Balzer. But in reality, he explains, "we like new versions of things we already know." In other words, Greek yogurt satisfies our inner Ferdinand Magellan without actually forcing us to discover something actually new.
Pinkberry transformed sweet, ice cream-like frozen yogurt into a refreshingly clean, tangy, tart dessert. "We let the yogurt be the hero," says CEO, Ron Graves. Getting into Greek, he says, was a "natural progression."
Unlike traditional Pinkberry, Graves didn't freeze this hero as freezing reduces some of Greek yogurt's beneficial bacteria. Pinkberry spent a year developing their version, which uses milk sourced to one strain of cows on a sustainable farm. Their Greek isn't a treat. It's an anytime snack available morning till night.
Enthusiasts slather Greek on sandwiches instead of mayo and substitute it for sour cream, heavy cream, or cream cheese in sauces, dips, dressing and smoothies. (Note: Greek yogurt "onion dip" is way-thick, too sour, almost chalky. Stick with sour cream.)
Greek yogurt lets Americans eat-in and eats healthy with no prep, no clean-up and no cooking. "Only foodies think of cooking as a 'hobby,'" says Balzer. "For the rest us it's a daily, 'I want out of this job' kind of thing." Kudos to Greek yogurt.