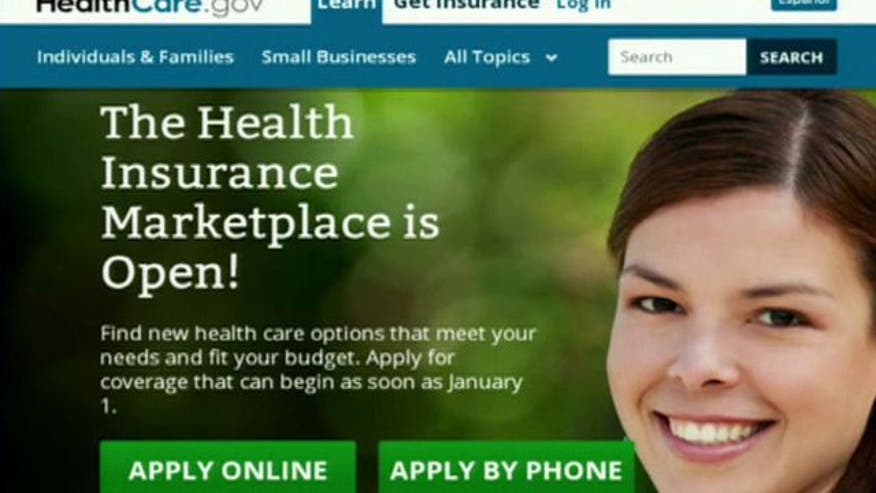 President Obama's "tech surge" to turn around the failing HealthCare.gov is running into concerns that the administration could be throwing "good money after bad" while complicating an already complicated situation.
Tech experts who spoke with FoxNews.com say that, like any good military strategy, this "surge" is not just about the number of soldiers, but how they're used. The administration's plan to enlist a team of experts and specialists from both the private and public sector could be a big waste of money if they aren't used correctly.
"If you start throwing people in and start having them just fixing bugs it could be a recipe for disaster where you end up with more bugs than when you started," explained James Turner, a member of the technical staff at software company Beeonics and contributing editor at O'Reilly.com.
Lawmakers already are on high alert about the possibility of paying gobs more cash for an ObamaCare sign-up system that has already drained the federal coffers of millions in taxpayer dollars.
"If 55 contractors couldn't successfully build, test and run a website, how do we expect anyone else to be able to do this?" Rep. Tim Murphy, R-Pa., said Thursday at a House committee hearing, where key contractors testified.
Murphy urged the government to "press pause" on the surge and find out first what went wrong, "before throwing good money after bad."
Sen. Marco Rubio, R-F.L., speaking with Fox News earlier in the week, questioned what the scope of the "surge" was. "They won't tell us exactly who they are bringing in, and they won't tell us how much they are spending on it," he said.
House Budget Committee Chairman Paul Ryan, R-Wis., has formally requested the price tag of the technical repair work.
The tech experts who spoke with FoxNews.com said that costs most certainly will rise as more bodies are brought onto the project.
Turner warned that more bugs could be created if the administration starts replacing the people with the institutional knowledge of the software and much-criticized code. "When you get a bunch of new people coming in, I hope they will be working hand in hand with the people already there — rather than swap one guy out for another."
Officials have not explained how the so-called tech surge would work. Obama has tapped trusted adviser Jeffrey Zients, a former official of the Office of Management and Budget, who is slated to become head of the National Economic Council in January, to consult on the project.
Already, officials have said improvements and code fixes to the website have been made, including increasing bandwidth and testing, and modifying the features to allow users to browse pricing before creating personal accounts.
"Those are the kinds of smart things you want to do," said Turner.
Health and Human Services (HHS) Secretary Kathleen Sebelius also confirmed this week that the administration will be drawing from the Presidential Innovation Fellows, a White House mentoring program that "pairs top innovators from the private sector, non-profits, and academia with top innovators in government to collaborate during focused 6-13 month 'tours of duty,'" in hopes of coming up with better solutions.
"These are a lot of high-octane people from the private sector" including software engineers from the nation's most prestigious companies, said Turner. "They will certainly be a good group to do it … and they come from outside the normal government contracting ecosystem."
However, "we really don't know who will be wielding the hammers on the box yet," or what they will be doing, added Turner.
Already, it is going to be difficult to bring new techies up to speed and to begin working on the "low hanging fruit" — those are most obvious programming glitches and the easiest to fix — while the website is on line and being used. That puts the effort at a disadvantage from the outset, said George Edwards, a computer scientist with Quandary Peak Research, a software consulting firm in Los Angeles.
"As we all know in the software industry, that the later you find problems the harder they are to fix," he tells FoxNews.com. "When you identify problems after the system has been integrated and running and being used by people, then it's going to be more expensive to fix and unfortunately, that seems to be the situation were in right now."
CGI Federal is the primary contractor behind the health exchange infrastructure, including HealthCare.gov, and has already received $196 million in funding, according to government records. While CGI has not been blamed directly for the issues plaguing the system, it is the most visible target, aside from the government itself, for the critics' ire. A representative from CGI testified Thursday before the House Energy and Commerce Committee and defended the company's work, insisting the site will be fixed in time for the Jan. 1 hard launch.
Contractors also testified Thursday that the system should have been tested for longer — the responsibility, they claim, of government officials — and that a last-minute decision to require users to sign up before browsing also caused problems.
As the administration tries to clean up, using the phrase "surge" surely is no mistake. Supporters of the military surge of 20,000 new troops into Iraq in 2007 still consider it to have been a turning point in a struggling war. But the techies say no amount of wordcraft can cover the fact that the project, even with a battalion of fresh eyes, is in trouble.
"If you have a project that is behind schedule, then oftentimes adding more people to the project will just make you more behind schedule," said Edwards. "People will need to be brought up to speed, and this will create more overhead and demand more coordination."
More than ever they will need the right general, and in this regard, that means management, said Turner, and "frankly, the computer industry right now sucks at project management."