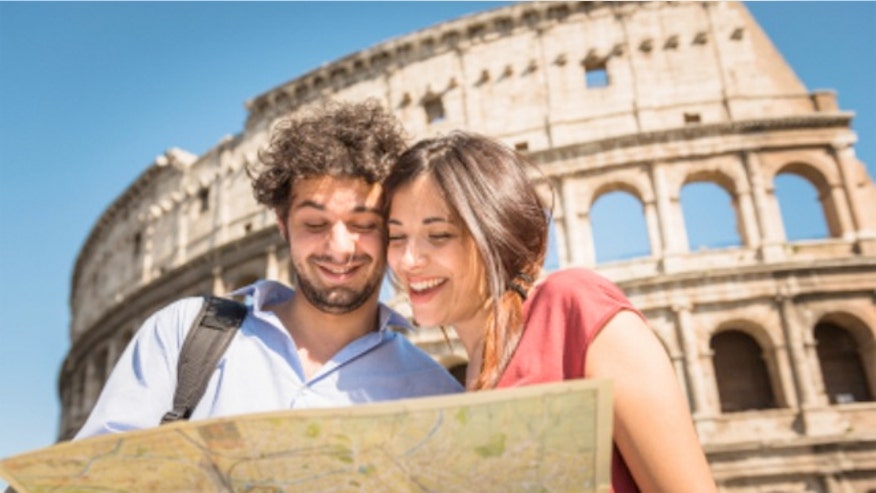 With the euro at almost parity with the dollar (it was recently at $1.05), many Americans are thinking that this is the summer to visit Europe. Compared to a decade ago, hotels, trains, meals, and other costs now are almost 30 percent less.
However, airfares are still high to Europe, despite the plunge in oil prices, although we have seen some softening for travel before mid-June and after mid August (when children and college students go back to school) and some routes are quite cheap even for July and early August.
So how can you take advantage of the strong dollar?
First, just concentrate on getting across the Atlantic cheaply
A big mistake that U.S. travelers make: myopically focusing on just one route to Europe. For example, let's say you want to visit Amsterdam this summer. We have bad news: fares to Amsterdam are incredibly expensive. But, a recent search found peak summer fares from New York to Frankfurt, Germany on Singapore Airlines for $799 round-trip. And while New York to Amsterdam was selling at the same time for $1500 round-trip, summer travel, Frankfurt to Amsterdam on KLM was widely available in July and August for $106 round-trip. Do the math.
No, you do not want to land in Frankfurt in the morning and expect to fly immediately to Amsterdam. What if your inbound plane is late and you miss you connection? You'll have to buy a last minute fare, assuming there are seats, which will be more expensive. So I simply recommend that you consider this a bonus stopover (for a night or two) in Germany. With the $600 per person that you save, you can make Germany a nice side trip. Or you could take the train to Amsterdam on high-speed rail, a five-hour scenic journey, for 59 euros each way.
Sign up for airfare alerts by email and follow travel sites on Twitter. And remember, there's no best time of day or day of week to find a bargain.
Search into alternate airports
Flying into London Gatwick might be cheaper than into London Heathrow, or Paris Orly vs. Charles de Gaulle. Milan has two airports, Moscow has three.
Sign up for airline emails
Every year around this time airlines announce huge reductions on summer business class fares. In 2012, British Air had an amazing sale in business class from all U.S. gateways for $2012 round-trip. Airlines also announce sales in economy and premium economy class via e-mail. In the case of Singapore Airlines, members of its frequent flier program get the announcements first, so sign up.
Look at discount European airlines
Especially FlyNorwegian.com. You'll save a lot by paying the airfare in euros on their website rather than in dollars. This isn't a scam, it's just the way the website is set up.
Example: Norwegian had LA to Copenhagen recently for $405 round-trip for travel in October, but in dollars converted from euros at $1.05/euro it was $340.
Other airlines to look at include Condor Condor.com and Thomas Cook Airlines, which, for example, recently sold New York to Manchester U.K. for $545 round-trip, May travel.
Be willing to connect
Turkish Airlines has some of the lowest fares to Europe but you must connect in Istanbul. Turkish offers free city tours in Istanbul if it's a long layover.
Lodging
Use AirBnB, FlipKey, VRBO.com for home and apartment rentals to save money on longer stays. Pay in euros where possible rather than in greenbacks. Many sites allow you to do this and if the exchange rates work in your favor you'll save money.
Look at Tingo.com. If the hotel rate goes down after you book, it refunds the price difference to your credit card automatically.
And "flash" sale sites like Jetsetter.com save you money, but you always need to check the hotel's website to see the rate if you buy there instead. Example: a one-week stay at the luxe Belmond Reid's Palace in Madeira, Portugal was selling on JetSetter for $1977. Same room, same dates on the hotel's website: 2800 euros (about $3000).
Packages may save money
An air plus hotel package might save money versus buying separately, but always do the math by comparing separately.
Other purchases
Use ATMs to get euros, but make sure your bank doesn't charge foreign ATM fees. Charles Schwab and Ally Bank are two that do not, as well as most credit unions.
Consider bringing two ATM cards if you rely on them for cash in case one becomes defective or gets eaten by an ATM on a Sunday when banks are closed.
Use a credit card that doesn't charge foreign transaction fees, such as the Capital One card.
If a merchant or restaurant offers you to pay by credit card in dollars or euros, always choose euros because the merchant can set his own exchange rate if it is in dollars.
Staying in touch
T-Mobile now offers free unlimited data and text roaming throughout Europe, plus 20 cent-per-min. phone calls. It is much less expensive than buying a data plan. Or buy a SIM card when you arrive for your unlocked GSM phone.
George Hobica is a syndicated travel journalist and founder of the low-airfare listing site Airfarewatchdog.com.