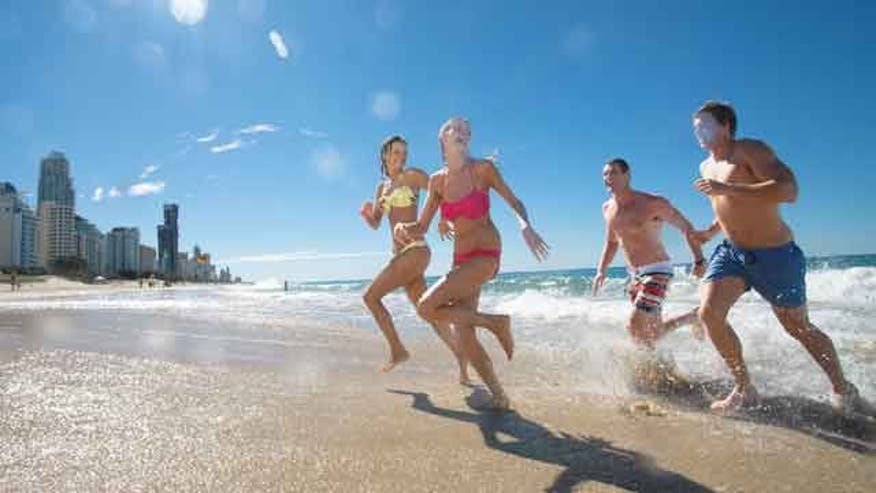 Australia's Gold Coast is a surfer, vacationer and adventure seeker's paradise. Some 10.5 million visitors make their way to the area each year, so if are looking for an unforgettable trip, consider booking a flight to this sunny stretch Down Under. Here are five ways to experience the Gold Coast.
5…Awesome Accommodations
From caravans to cabins to farms, the Gold Coast is full of different places to rest your head. Mystery Mountain Farmstay resort offers cow milking, sheep shearing and handcrafts. Hilton Surfers Paradise has stunning views of the beach and cityscape, as well as a sophisticated cocktail bar. Stay in a rainforest chalet at the Mouses House Rainforest Retreat and let the sounds of the mountain stream lull you to sleep.
4…Fun in the Sun
Whether you want to surf, swing or stroll, the Gold Coast has a beach for you. Located along the 35 miles of coastline are surf spots, snack bars, volleyball nets, playgrounds and rock pools. Learn more about what the Gold Coast beaches have to offer here.
3…Subtropical Rainforest
The Gold Coast hinterland is home to some of the most beautiful rainforest in the world. Take a walk through Springbrook National Park and take in the natural rock formation over Cave Creek. Also see beautiful native flora, fauna and wildlife, including the black cockatoo and red bottlebrush.
2…Theme Parks
Roller coasters, dolphins and inflatable balls are among the exciting activities on the Gold Coast. Walk on water in an inflatable plastic bubble at Aussie Waterballs. Visit polar bears and seals at Sea World or scream your lungs out while you ride one for the coasters at Warner Bros. Movie World.
1…Wine, Dine and Shop
After a long day of sun and sand, eat at one of the area's hundreds of cafes, restaurants and bars. The Gold Coast is also a great place to shop, whether you want to pick up a few things at Gucci or hunt for deals at the Harbour Town outlets.