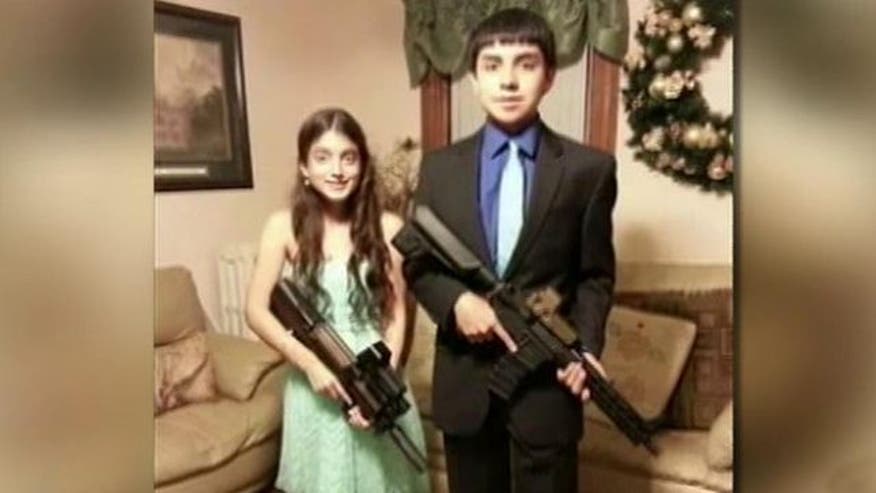 A Massachusetts teen who was suspended from school after a photo of her and her boyfriend holding Airsoft rifles was posted on Facebook made an innocent mistake that the school has "blown out of proportion," her father said Wednesday.
Jailes Pereira, of Middleboro, Mass., told FoxNews.com that his daughter Jamie and her boyfriend Tito Velez, both 16, meant no harm when they posted the photo on Facebook late Friday.
"It was an innocent mistake," Pereira said. "It was a totally innocent, stupid mistake that Tito made by putting the word 'homecoming' at the bottom of the photo and then posting it to Facebook. If he had not posted the word 'homecoming,' there would've been no problem. I understand [school officials'] take on it, but it was not intended with malice at all."
Pereira said he's headed to Bristol-Plymouth Regional Technical School in Taunton to meet with Principal Carolyn Pearson to discuss his daughter's punishment. She and Velez are both suspended, but the length of those suspensions have yet to be determined, Pereira said.
"This has been blown out of proportion."

– Jules Pereira, father
"I don't think it's the right solution," he said of the suspensions. "A slap on the wrist, maybe a day-long suspension or a warning would've been the right thing."
Airsoft, a sport similar to paintball, uses non-metallic pellets that are fired from replica guns that use compressed gas or a spring-driven piston to propel them. Advocates say the pellets won't cause serious injury if combatants wear proper clothing, which includes goggles, when playing. The guns, which closely resemble real firearms, are legal for use at all ages under federal law although regulation may differ by state and locality. ;
Massachusetts law forbids minors from buying the guns or possessing the in public place unless the minor is accompanied by an adult or has a sporting or hunting license and a permit from the local chief of police.
Superintendent Richard Gross said any punishment ultimately doled out to the students will be based on the disruption they caused at the school on Monday, when school officials first learned that the photograph was being discussed among students. The picture was posted hours after a Washington state teen shot five fellow students inside his high school before taking his own life.
"What other people and the children decide to call it is another thing," Gross said of the reason for the suspension. "This is about the tumult created by their online activity."
Gross acknowledged that the pair's timing was particularly bad given the Washington incident, but said that was not the issue.
"The timing, really, I think, and their actions, given the nature of things, probably were not wise at all but the timing of things really has little to do with the adjudication of their discipline," Gross told FoxNews.com. "The fact is they disrupted the school day."
Velez, who could not be reached for comment early Wednesday, reportedly said he and his girlfriend simply wanted to "do something unique and different" instead of taking typical pre-dance photographs.
The photograph, which has since been removed from Velez's Facebook profile, depicted the teens holding the Airsoft guns aimed downward while standing side-by-side in formal wear. A caption beneath the photograph read: "Homecoming 2014." As of early Wednesday, Velez's profile now featured a photograph of an assault weapon resting against a pumpkin.
The controversy is in stark contrast to a policy approved last week by a Nebraska school board to allow students to pose with guns in a "tasteful and appropriate" fashion in their senior portraits. Broken Bow Public Schools board members voted unanimously to allow graduating seniors the option of submitting photographs so long as the student has permission to reproduce the picture from the original photographer, he or she is wearing attire that complies with district standards and does not include drugs, alcohol or tobacco. The school has a rifle-shooting team, and Superintendent Mark Sievering told FoxNews.com that hunting is a "part of life in the rural community."
Pereira, meanwhile, insists his daughter and Velez did not intend to threaten or frighten anyone with the photograph. They were also unaware of the school shooting in Washington state just hours earlier, he insists.
"They're great kids, they follow all the rules," he told FoxNews.com. "This has been blown out of proportion."