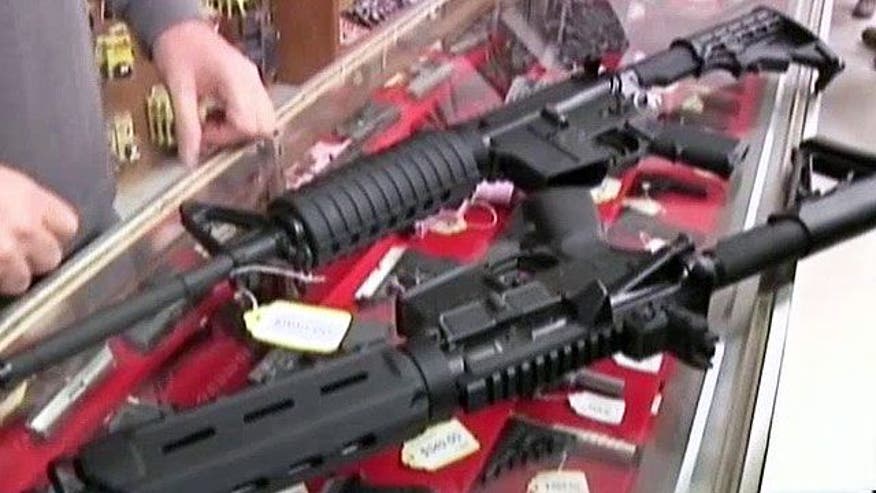 The Supreme Court has turned aside all Second Amendment challenges since a pair of landmark rulings in 2008 and 2009 confirmed the rights of individuals to keep and bear arms.
But some believe a California case could make the high court return to the controversial area and determine whether gun ownership rights extend beyond the corners of one's home.
"If this goes to the Supreme Court, I'll probably be right there on the doorsteps fighting and advocating," Michelle Laxson proudly said. She and a handful of other San Diego County residents joined together in a lawsuit challenging how stingy their sheriff was in issuing permits to carry concealed weapons.
"The attitude of the sheriff's department was very cold," Laxson recalled to Fox News. "And a kind of like chip on their shoulder regarding gun rights and concealed weapons and basically said, 'Ha! You really think you're going to come through and get a [permit]? This little precious girl?' You know, in her dress and her boots and her lipstick. They looked me and it was almost like a laughingstock. Like a joke."
In February, a divided three-judge panel of the Ninth Circuit U.S. Court of Appeals ruled in Laxson's favor concluding that as responsible citizens she and the other plaintiffs have the right to carry a concealed weapon for self-protection.
The San Diego Sheriff's Department initially said it would follow the court's ruling and not appeal. But California Attorney General Kamala Harris intervened and is asking the Ninth Circuit to rehear the case. The legal pathway likely ends with a petition to the Supreme Court.
"Unfortunately, Heller and McDonald left more questions unanswered then they answered," Laxson's attorney Chuck Michel said about the two major high court rulings from a few years ago. "Inevitably it's going to go back — it has to go back to the Supreme Court to settle some issues."
In 37 "shall issue" states, applicants for permits to carry concealed weapons (CCW) must pass basic requirements for approval such as proof of residency and a clean background check.
Nine "may issue" states give local officials much more latitude in determining who gets permits. In California, an applicant must also demonstrate "good cause" why he or she should receive a permit. Four other states (Alaska, Arizona, Wyoming and Vermont) have no permitting requirements.
Laxson, born and raised in rural San Diego County, has been around guns all her life. "I met every other qualification. I've met the standard for all of the safety requirements. I've gone through every course. I'm an avid shooter and very responsible in what I do," Laxson explained. "I was heartbroken that my own safety wasn't [good] cause to protect myself."
In striking down the California system, the court ruled that "a law that destroys (rather than merely burdens) a right central to the Second Amendment must be struck down." It determined that the state must allow citizens the ability to carry firearms outside the home for self-defense.
Judge Sidney Thomas, considered in 2010 by President Obama for a seat on the Supreme Court, issued a strongly worded dissent saying his colleagues went too far. "Carrying concealed weapons in public by definition does not inherently involve defense of hearth and home, so the core of the Second Amendment is not implicated."
Laxson's case is still pending before the Ninth Circuit as Harris has asked for a larger panel of judges to rehear arguments. A decision from the court on whether that happens hasn't been announced.
Meanwhile, other California counties are following the February decision and have relaxed their CCW permitting process. Orange County, for example, has seen a rush of filers. More than 6,000 applications have been made with the sheriff's department in the last five months.