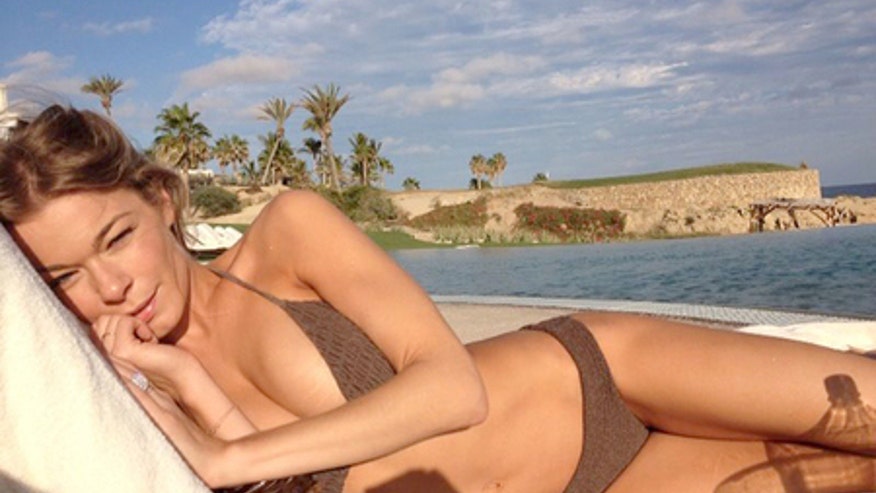 LeAnn Rimes is a busy woman these days. With a new reality show, new album, and a possible bikini line, the Grammy-winning country crooner has a lot to talk about. FOX411 recently caught up with the "Blue" singer who's anything but.
FOX411: On a recent episode of "LeAnn & Eddie," one of your girlfriends accused you of losing touch with your southern roots. Have you?
LeAnn Rimes: No, that's bulls–t! It's so funny. I guess it depends on who I'm around and what I'm around. I grew up in Texas and Mississippi, so I have those kind of roots in me. I have so much that I've been influenced by from traveling the world. I'm really kind of a mutt. When I get around my mom and my southern friends, I start to get an accent again. I can totally be redneck with the best of them, and I can be totally as posh as possible.
FOX411: In recent years, the media has really focused on your figure and weight. Do you find that kind of attention to be a double-edged sword?
Rimes: Yeah, it completely is! For women in an industry that picks you apart and a society now that has really turned to picking people apart to make themselves feel better– which is really sad– it seems to be less of building people up and more tearing people down. But, you know, I don't do it for anyone else. I do it for my health. Obviously, looking healthy is in my mind, always. Number one, I'm a woman, but obviously it's magnified more for me, but I think the more I made it about my health and not how I look, it makes it more fun. It makes it easier to do. It makes you want to get up and take care of yourself. That's just something I've found, for me, over the past couple of years. It just changed the way I look at fitness. Just get out and enjoy something physical.
FOX411: Have you thought about launching your own bikini line?
Rimes: Yes, I have! And I've been researching that a little bit more as we speak.
FOX411: Will you be hands-on with designing the bikinis?
Rimes: Oh, yeah! I mean, I've worn so many bikinis that I know what works and what doesn't. I know what I like and I know what's missing in the marketplace. We shall see! I hope that it comes to fruition.
FOX411: What kind of bikinis do you envision for your line?
Rimes: I don't know. I'm an earthly girl. I love very natural colors– nudes and golds. Beautiful, feminine and classy.
FOX411: How many bikinis do you own?
Rimes: Oh, a lot! The other day, I said I had 80 pairs of shoes and Eddie was like, "No way. You have at least 140 pairs of shoes." So, I started counting and I told him, "Babe, I stopped counting at 200." So, that's pretty much the same thing with bikinis. I'd like to say that I don't have a ton, but I know I do.
FOX411: Any advice on how to rock a bikini like LeAnn Rimes?
Rimes: I think the biggest misconception about bikinis is that if you're heavier, that you need to wear more coverage on your butt. It looks horrible on any woman. The skimpier the bottoms, the better your butt looks! If you look at pictures of women with bikinis that cover the whole butt, it just looks frumpy. Flaunt what you've got!
FOX411: Let's talk about your new album of dance remixes, "Dance Like You Don't Give a…" Did you have much input?
Rimes: Yeah! I mean, these songs are spanning 18 years, which is interesting to have songs from when I was a kid until now on this record. I love the "Spitfire" remix. I love the "You've Ruined Me" remix. I love the "Strong" remix, even though there's not a lot of vocals on it, it's just really beautiful. Over the years, remixes are something that I've had success with on the dance chart, so my fans have been asking for my remixes on one record for a long time. It's really something to give to the fans, and there's a couple of new songs on the record, too, that we had remixed. It was fun! I love to dance, and I would love to do more of this.
FOX411: What direction will you go with your next album? Who are your influences now?
Rimes: Gosh, I don't know! That is the of the question of the moment in my life right now. I think I know where I want to go more than I believe I do. I love "Spitfire," the last record. It kind of put me on a different path. One thing I know is that there will always be honesty within in my music, more so than ever. I'm excited to experiment with what I think I want. It's funny–today, I was trying to reference things with the sound that I was thinking about, because it's kind of a mishmash of a bunch of different things and it really dawned on me, I was trying to create something completely new, and you have nothing to reference. It's kind of a cool thing to be culling from different genres. I love older country music,. I love older soul music. I love some of the songs that are coming out of the UK. I love the Lumineers. There's a million things that I am influenced by, and I think that I don't have to live in such a box anymore, which is nice. Who knows what's going to happen, but it's going to be a very cool, creative process for me, and I'm already thoroughly enjoying it, even though I haven't quite started it yet. I'm almost getting there. I'm ready!
FOX411: How has it been to have the opportunity to tell your side of the story with your new VH1 reality show, "Eddie & LeAnn?"
Rimes: It's been good! Eddie and I are the last people that I'd ever think would dive into a show in the unscripted world, but we wanted to work together, honestly. We wanted to be able make fun of everything that has been the soap opera that people have written about our lives. Producers Scott and Deirdre Gurney and VH1 realized what kind of show we wanted make, which was based in comedy–'cause it's how Eddie and I are, anyway. We wanted to poke fun at some of these crazy rumors and give insight as to who we are. We are normal people who have feelings, and are navigating life just like everyone else does.
FOX411: Do you let your step-kids (Eddie's sons, Mason, 11, and Jake, 7, with ex-wife and "Real Housewives of Beverly Hills" star Brandi Glanville) watch the show?
Rimes: They haven't watched the show. But like (on the episode where I return to Tennessee), I feel totally comfortable letting them watch. They already are exposed to so much outside our home. We don't let any magazines inside our house when it comes to tabloids. We don't ever turn on the TV and watch "E! News" or anything like that with them around because you never know what's going to pop up. We didn't go out of the way to dig at anyone. It's how we deal with all of that in our life and how we joke about that in our life. You either go crazy because of all of it, or decide to take it on and laugh about it and just go, "How ridiculous is all of this? This is just insane that this is our life." We don't take ourselves so seriously.
FOX411: Have you heard from Brandi since the show has aired?
Rimes: Like, privately? No. We actually don't speak, really. Eddie and her talk over email about the kids, but other than that– no. She's free to say anything she wants, and she does. So she'll talk about it, eventually.