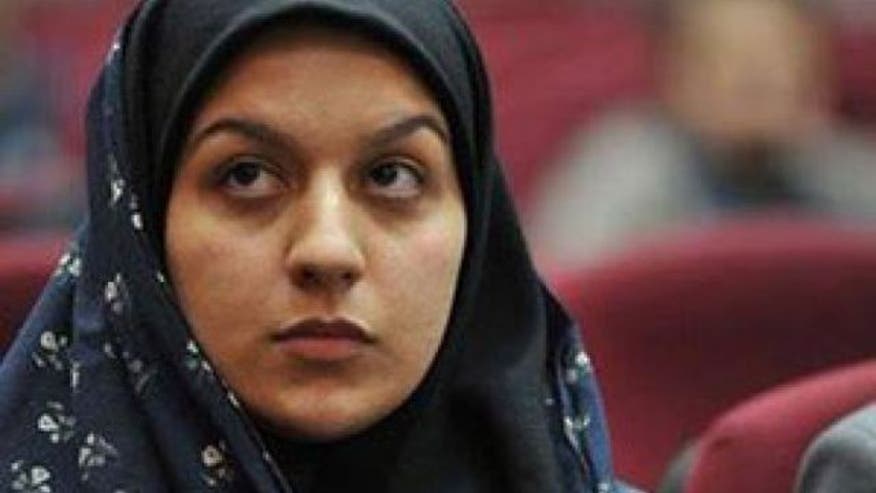 The fate of the Iranian woman sentenced to die for killing a man she says tried to rape her remains unclear despite reports she could be spared, according to her mother, who told FoxNews.com her daughter is now being pressured by authorities to sign yet another bogus confession.
Rayhaneh Jabbari, 26, was scheduled to be executed sometime this week, after her late September sentence was postponed with no explanation hours before it was to take place. But her mother, Shole Pakravan, said Wednesday morning that her daughter has heard nothing about the execution and is being pressured to sign a document that denies there was any attempt at rape and that there was no third party present at the time of the alleged murder.
Rayhaneh was originally slated to be executed last Tuesday, but authorities pushed it back to this week. Pakravan and other supporters of Jabbari gathered outside the Iranian prison where she was held to protest and the case garnered much international attention.
By Thursday, Pakravan told FoxNews.com the death sentence had been referred to the execution committee and was back on the calendar.
"My daughter is under severe psychological pressure. They are cornering her," Pakravan told Foxnews.com in an exclusive interview.
"They are trying to force her to sign these documents so that they can build their case against her. This is all illegal."
The semi-official Iranian Students News Agency quoted the nation's justice minister, Mustafa Pourmohammadi, as saying that the execution would be put off for at least 40 days. The Los Angeles Times cited sources who said the comments likely mean authorities had decided to commute the death sentence
Amnesty International, which has pressed Jabbari's case, released a statement that the execution initially set for Sept. 30 was postponed for 10 days, and decrying a conviction that stemmed from "a flawed investigation and unfair trial."
Last week, Pakravan spoke to FoxNews.com via Skype and begged for her daughter's life.
"The only thing I want … from God, from people around the world … in any way, in any form, is I just want to bring Rayhaneh back home," Pakravan said in Farsi, which was translated by FoxNews.com. "I wish they would come tie a rope around my neck and kill me instead, but to allow Rayhaneh to come back home."
Jabbari was convicted in the 2007 fatal stabbing of Morteza Abdolali Sarbandi, a former employee of the Iranian Intelligence Ministry. Jabbari, who worked as a decorator and was just 19 at the time, says Sarbandi drugged her and tried to rape her after the two met at a cafe and she agreed to go to his office to discuss a business deal. Jabbari allegedly stabbed Sarbandi with a pocket knife and fled as he bled to death.
Jabbari's execution was postponed in April in the wake of pressure from the international community, including a petition with nearly 200,000 signatures. But Jabbari believes her execution is imminent, and her mother says after Jabbari called her to tell her the prison planned to carry out her sentence, she was handcuffed and taken away.
"In reality, they didn't want her to have any contact with her family and they didn't want her cellmates to even see," Pakravan said. "I told her, 'Rayhaneh, this is impossible. It's illegal. They can't do this.'"
Rayhaneh, according to her mother, replied, 'My dearest mother, you can rationalize this however you'd like, but they are taking me to kill me.'"
"The only thing I want in this universe is for Rayhaneh to be released. I have done everything I can think of," Pakravan said. "I am a mother. No mother can accept the death of her child."
The desperate plea came as Iranian President Hassan Rouhani was in New York meeting with world leaders at the UN General Assembly, and seeking to put a moderate face on the repressive regime. Supporters of Rouhani hoped his election last year would usher in a more tolerant era than the one of his predecessor, Mahmoud Ahmadinejad, particularly regarding human rights. But advocacy groups say the number of executions and violations have increased.
Last week, Mohsen Amir Aslani, a former psychologist was executed for heresy in Iran after eight years in prison for allegedly giving religious classes where he propagated a new interpretation of the Koran. He was also accused by the authorities of insulting the Prophet Jonah.
Lisa Daftari is a Fox News contributor specializing in Middle Eastern affairs.