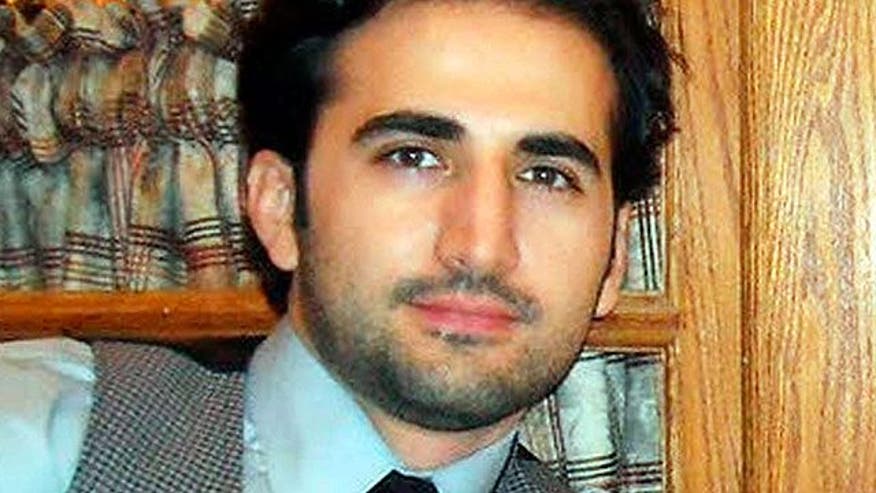 The family of a U.S. Marine imprisoned in Iran came Tuesday to New York, where world leaders are gathered for the UN General Assembly, to press his case and plead for him to be reunited with his dying father.
Amir Hekmati, a 31-year-old American citizen, has been held in Iran for three years since being arrested when he went back to Iran to visit family for the first time. At first, Hekmati was tried on espionage charges and sentenced to death, but that verdict was overturned and he was charged with a lesser offense — for cooperating with the United States, which carries a 10-year sentence.
"His father has terminal cancer," said Ramy Kurdi, Hekmati's brother-in-law. "His time is limited, and he is always thinking about being reunited with his son. It is very difficult for him."
"… if Iran truly seeks to become a member of the global community as a nation, it cannot hold political prisoners."

– Rep. Dan Kildee, D-Mich.
With Iranian President Hassan Rouhani in New York, Kurdi, who is married to Hekmati's sister, Sarah, left their children in Michigan to come and make their loved one's case.
Hekmati's father, Ali, 63, has suffered three strokes and has an inoperable brain tumor, family members said.
Before heading to New York, the family released a video in which the father speaks about missing his son on these difficult days.
"It has been a long time since last I've seen you," the father says in a weak, frail voice. "During this time I've suffered three strokes, a tumor…a rough life…"
Sarah Hekmati said the Iranian regime knows her brother, who went to Iran to see his grandmother, is no spy.
"We were shocked and it was disbelief," she said of learning he was detained. "We contacted the Iranian authorities to find out what the problem could have been, because he went with all the appropriate paperwork and he had a visa. "
Kurdi and Sarah Hekmati brought some political muscle with them, in Rep. Dan Kildee, D- Mich. Kildee said Rouhani's recurring bid to put a moderate face on the Islamic republic does not square with an imprisoned U.S. Marine.
"The position of Congress and the American people is that if Iran truly seeks to become a member of the global community as a nation, it cannot hold political prisoners," Kildee said. "Amir Hekmati is an innocent man and he's being held for political purposes."
Along with the support of various human rights groups, the case has received bi-partisan attention from lawmakers urging Iran's judiciary to release Hekmati. His family and supporters have set up a website, Amir Hekmati Freedom Fund where people can find out more about his case and how to help bring him home.
When Rouhani took office more than a year ago, many were optimistic that the self-proclaimed moderate would show more compassion in human rights cases than his predecessor, Mahmoud Ahmadinejad, but there has been scant evidence of any change. At least one other U.S. citizen, Pastor Saeed Abedini, of Boise, Idaho, is also being held in an Iranian prison. Abedini has been imprisoned for two years and accused of evangelizing.
As world leaders gather for the UN General Assembly, many human rights organizations have expressed fear that the rise of Islamic State in Syria and Iraq and increased emphasis of climate change have taken center stage and relegated human rights violations in Iran and around the world to the sidelines.
Lisa Daftari is a Fox News contributor specializing in Middle Eastern affairs.