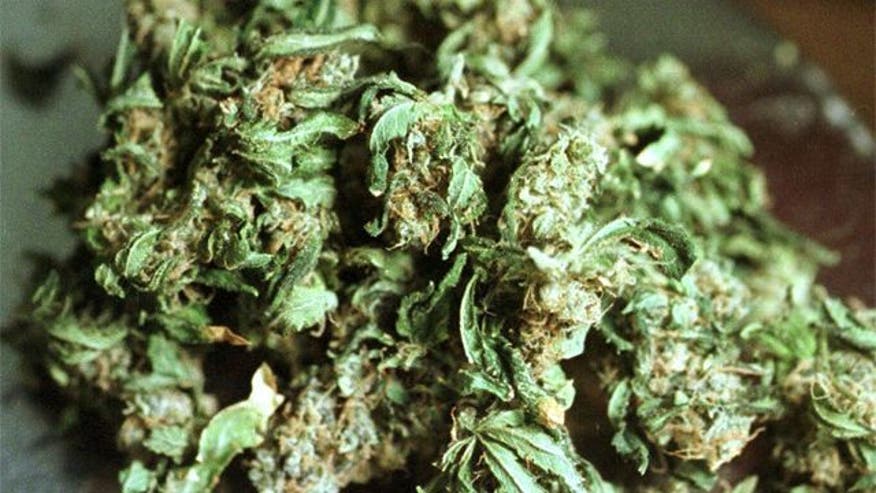 The city of North Bonneville, Wash. — population 1,000 — sits along the Columbia River a stone's throw from one of the world's largest hydroelectric dams. On the other side of the Columbia River Gorge is the state of Oregon.
It may seem an unlikely place for the nation's first city-owned marijuana shop, which opened Saturday. The Cannabis Corner sold $8,000 worth of pot on the first day.
"The economy has been tough for everybody, for small towns like this, it's been especially tough," said North Bonneville Mayor Don Stevens. "And I think after people got over the initial shock of how we were going about it, they realized that what we're doing is trying to create new revenue streams at a time not a lot of them are available."
Dubbed the "marijuana mayor" by detractors, Don Stevens has been smoking pot since he was a sophomore in high school. When Washington state voters legalized the drug in 2012, Stevens got the City Council to form a Public Development Authority for the sole purpose of selling pot, pipes and marijuana-infused edibles. All the business profits from The Cannabis Corner will now be kicked back to City Hall.
Residents did not get a vote on the move, which has plenty of opposition.
"I think it's sad for the city," said Skamania County Sheriff Dave Brown. "I think it's sad for the county and the residents, and I think it's sad for society as a whole."
While it's legal for adults to buy marijuana and consume it in private, it is illegal to carry it across the state line. But in the course of one hour, Fox News saw half of The Cannabis Corner customers had Oregon license plates. One buyer concealed his weed in the spare tire wheel well of his car's trunk. Brown says he doesn't have the resources to enforce the law prohibiting interstate transport.
City employees who run the pot shop say the more the merrier.
"We're trying to be sustainable within this small community," said Cannabis Corner's manager Robyn Legun, "and we hope people will travel to the community enjoying themselves here and then come back."
Stevens says marijuana revenue will allow North Bonneville to keep its street lights on, water its grass all summer and make improvements to a playground. But critics, who believe a large majority of residents oppose the city-run pot store, argue it gives the town a black eye.
"How do I justify that to my kids? That we're making money by selling a drug that's still illegal under federal law," said North Bonneville resident Brad Anderson.
Others worry about North Bonneville's reputation. The city's best-known business is the Bonneville Hot Springs Resort, a 78-room upscale health spa resort which opened in 2002. Marfa Scheratski, whose father built the resort, doesn't think people coming to the area to buy pot will help her business at all. And she sees a potential problem hiring and keeping employees.
"It's always a challenge for us to find help that is clean," said Scheratski. "We're a no-tolerance workplace, so this just makes it a little more challenging."
Consultants expect sales to reach up to $3 million a year at The Cannabis Corner. The nearest competitors are over a 30-minute drive away. If that sales projection holds, the city could see an annual windfall of close to $500,000. It's a huge sum considering the current budget is $1.2 million.
The pot shop also employs 10 workers and supports local marijuana growers who employ up to 35 people. But the weed window of opportunity may not stay wide open for long. Last fall, Oregon voters legalized marijuana. Possession and home grows will be legal July 1 and Oregon's first pot retailers are expected to open for business in January of 2016.
North Bonneville's mayor isn't all that concerned. He sees his shop as having a price advantage over every other pot store, whether in Washington or Oregon. Why? His store pays no federal income tax because it's a city-owned business.
Stevens makes no apologies for trying to profit off of pot.
"It's legal," he said. "You don't have to like it, but there's a lot of stuff about government that all of us don't like."
Dan Springer joined Fox News Channel (FNC) in August 2001 as a Seattle-based correspondent.