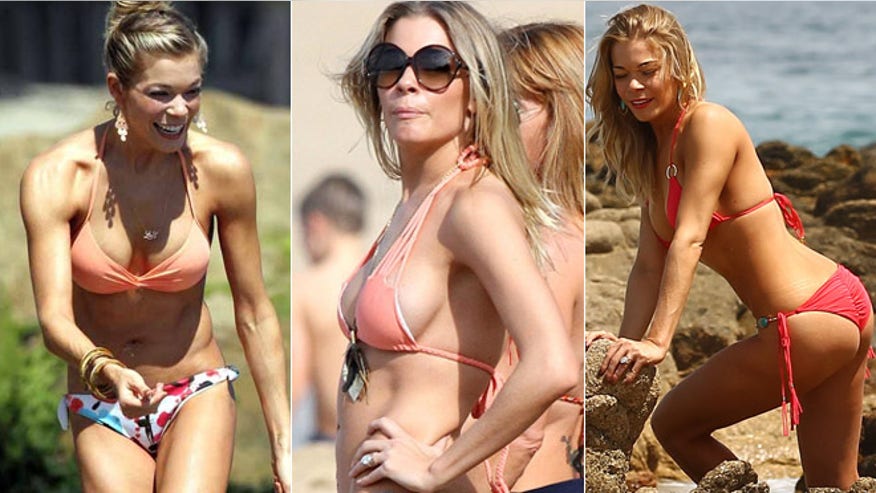 NEW YORK – LeAnn Rimes has had enough photos taken of her on beaches in bikinis to star in her own calendar.
The country music singer, much maligned for her scandalous marriage to her co-star Eddie Cibrian (they hooked up on the set of a Lifetime movie while they were married to others), may not be making much music these days, but she sure is a professional at staying in the press.
Like clockwork new shots of Rimes frolicking on a new beach in a new bikini appear in celebrities weeklies and web sites.
Here she is in Maui; there she is in Mexico; here she is in Malibu.
If there's a beach, there's a good likelihood Rimes will be on it in a teeny weeny bikini.
Now some industry insiders are speculating that these pics aren't paparazzi shots at all, but that Rimes is tipping off the photographers to stage the shots, and maybe even getting a piece of the action for herself.
The most recent pictures of Rimes and husband Eddie Cibrian looking picture perfect on a beach in Cabo San Lucas raised the eyebrows of one skeptical photo editor.
"Those photographs came into all the magazines and websites fully captioned and saying, 'LeeAnn Rimes on a trip to renew her vows.' There is no vow renewing in those pictures," the industry insider told us. "There is no way the paps would have known she was doing that unless she specifically told them."
"Plus the paps just don't get access like that in Cabo," the editor added. "They can't get close enough to the celebrities without permission to get the quality of those photos. They were right next to her. There was no long lens. This was not intrusive in any way. This was a photo shoot."
PHOTOS: Country music's most stylish stars.
Pics like these demonstrate a truth long known in the magazine industry but hidden from consumers—celebrities are often in cahoots with the paparazzi.
"There is nothing news worthy about LeAnn Rimes frolicking on the beach"

– Celeb weekly editor
"There are many celebrities who do everything possible to stay out of the paparazzi's range yet many others use these photographers as their one-way ticket into glossy magazines. More behind the scenes deals are brokered between photographers and stars than most people think," explained Dorothy Cascerceri, Senior Editor and television correspondent for In Touch Weekly magazine. "Sometimes celebs allow photo agencies to license their personal photos and other times they contact photo agencies before leaving the house so shutterbugs can snap them taking a 'casual afternoon stroll.' Attention-starved C- and D-listers are most well known for tipping off agencies. The paparazzi are as much puppets to some celebs as they are nuisances to others."
VOTE: Who wore it best, LeAnn Rimes or Brooklyn Decker?
Indeed the reasons celebrities hook up with the paps are many. One is to control the kinds of pictures released to the press. Some celebs believe that if they give just a little they can avoid the paparazzi snapping them unaware in an embarrassing situation.
Another reason to hook up with the paps is to get cash, one of the dirtier little secrets of Hollywood moneymaking. Celebrities often share the proceeds from the sales of their photographs to magazines and websites with the agency that contracts the photographer taking the pictures.
Insiders said there is a possibility that Rimes is making money off her photos, even though it wouldn't be big time cash.
"We see her in a bikini all the time. There is nothing news worthy about LeAnn Rimes frolicking on the beach so it isn't a big money shot," an editor told us."It is the equivalent of Jennifer Garner walking down the street with a coffee or maybe just a little bit more. I would say they sell to magazines for $1,000 and to websites for $100 a piece."
But if those pictures are purchased by 10 magazines around the world and a hundred websites, that is still a nice chunk of change.
But perhaps more than the money, such shots help to bolster Rimes' somewhat tarnished brand which took a hit when she first hooked up with Cibrian while he was married to 'Beverly Hills Real Housewife' Brandi Glanville.
"Her story is defined as being the girl who hooked up with her co-star when they were both married and and she stole this woman's husband. When you see her frolicking around in the sun it sends the signal this is real relationship just like yours. Maybe it was weird how they got together but now they are just like you," an editor told us. "There is nothing news worthy about LeeAnn Rimes frolicking on the beach but it is another reminder to anyone who will pay attention that she is happy and skinny and still married."
Rimes did not respond to our request for comment.