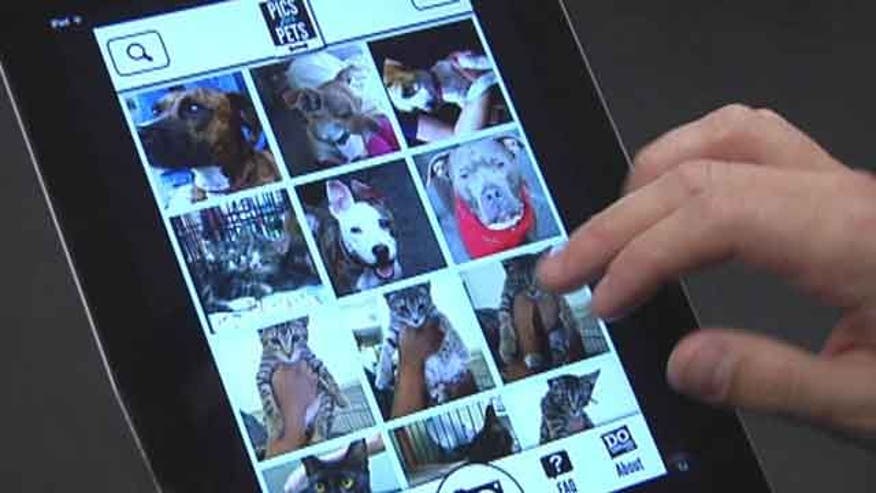 Looking to adopt a new pet? A new mobile app called "Pics for Pets" puts your directly in touch with animal shelters in your area.
The app for iOS and Android devices was created by DoSomething.org to increase shelter animal adoption rates.
"Shelters have said this is really helpful to them because not a lot of shelters have enough staff to take all the pictures," campaign manager Greg Thomas told FoxNews.com. By taking and sharing a great picture of a shelter animal, you can double it's chance of being adopted, he said. ;
"Any way we can get the word out — from social media and networking sites to anybody sharing photos of our pets — brings people to the shelter and lets people know," Tiffany Lacey, executive director of Animal Haven shelter in New York, told FoxNews.com.
The app lets you take a photo of a shelter animal, then enter information like breed, age, location and even a personal note about time spent with one of the furry friends. The app then allows you to share images via Facebook in the hopes of finding owners.
If you are looking to adopt, there are a few ways to use it to seek out your new best friend, whether he's a dog, a cat or … miscellaneous.
"We've even got pigs and a hedgehog in here as well. But you can also search by location and find all the animals that are near you," Thomas explained.
The campaign is specifically looking to enlist the help of teenage "fur-tographers."
"Utilizing something that teens are already experts in — sharing photos on Facebook — we are hoping to show people that their next potential pet can be the cute animal down the street at their local shelter" Thomas said. "It only made sense to turn this wonderful campaign into a mobile app on both iOS and Android — especially since a recent Nielsen study suggests 58 percent of American teens 13-17 now own smartphones."
Animal Haven in New York City, is a nonprofit organization that finds homes for abandoned cats and dogs throughout the Tri-State area, and provides behavior intervention when needed to improve chances of adoption. Click here for more information on the shelter.