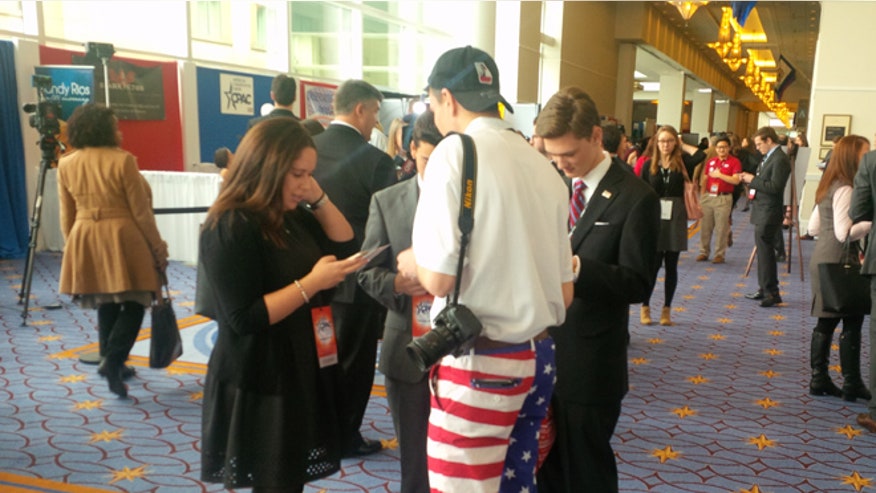 FreedomWorks, often considered the ideological brains behind the 2010 Tea Party wave, is trying to reinvent itself for the 2016 elections and beyond, even borrowing from the progressive playbook.
Chief Executive Officer Adam Brandon said Friday the group is refocusing its strategy — from expanding its digital outreach and getting more involved in such torch-bearing issues as civil asset forfeitures and mandatory-sentencing reform to providing more financial support for conservative Capitol Hill lawmakers so they can keep challenging the Washington establishment.
"As the battle moves, we need to be able to participate in different ways," Brandon said recently from the group's Washington headquarters.
He and others say the Republican Party's most conservative wing, particularly in the House, is under increasing pressure to go along with leadership or risk losing re-election money.
"I want to make it easy for you to win but not have to worry about K Street backing," Brandon said.
Tea Party-backed Rep. Thomas Massie, elected in 2012, suspects he's in that category.
The Kentucky Republican had little problem raising enough money from business interests and others to win reelection last year, reporting $46,000 from tobacco, trucking, health care and other industries in just the first quarter of 2013.
He since voted against returning Ohio Rep. John Boehner as House speaker and he broke with GOP leaders when they avoided a standoff with President Obama over immigration reform.
Now, in the first quarter of 2015, Massie has collected just $1,000 from political action committees, or PACs, which funnel contributions to candidates from business, labor or ideological interests.
He and other conservative caucus members bluntly say the reason business contributions have fallen is that GOP leaders are retaliating.
"Those who don't go along to get along aren't going to get as many PAC checks," said Massie, making an allegation that Republican leadership flatly denies.
FreedomWorks was found in 2004 with the assistance of former GOP House Majority Leader Dick Armey as a conservative advocacy group that helped in campaigns and trained and mobilized volunteers.
However, the group didn't come into real prominence until it helped organize the 2009 Tax Day protest and other Tea Party-type rallies that led to Republicans taking over the House in the 2010 midterms.
The other significant strategy change for Freedom Works is recent months is the group's efforts to get "early money" to candidates — much like Emily's List has done with pro-choice female Democrats to encourage top talent to run and to attract more donors.
"If you jump, they'll be plenty of water in the pool for you," Brandon said of the strategy.
He and others thinks Emily's List is now among the most influence PACs in politics.
This is not first time that FreedomWorks has announced a shift in direction since helping lead the anti-tax revolts and backing enough candidates touting that message to the help Republicans in the 2010 wave election.
As the victories piled up on election night, Brandon vowed to Slate.com that his group would now start holding newly-elected candidates to their less-government, less-taxes promises.
The entire Tea Party movement, in fact, has been under pressure to change over the years, amid arguments that related groups have repeatedly backed candidates incapable of winning general elections — particularly in 2012 when GOP Senate candidates Todd Aiken, Missouri, and Richard Mourdock, Indiana, made controversial remarks about rape that cost them their races and hurt the Republican Party's bid to take control of the Senate.
Brandon says FreedomWorks is pleased with the 2014 election results — helping such Tea Party-endorsed candidates as Republican Ben Sasse win a Senate seat in Nebraska and creating competitive House races in such places as Washington state, where Republican and ex-NFL star Clint Didier lost by just 2,000 votes.
Still, a Tea Party-backed candidate lost in essentially every 2014 Senate primary in which a Democrat could have won the general election, including those in Georgia, Kentucky and North Carolina, and failed to unseat 77-year-old Mississippi Sen. Thad Cochran, consider among the most vulnerable of 2014 incumbents.
FreedomWorks has had to form a "hard dollar" PAC, to raise the so-called early money.
Brandon said having to form nonprofits, PACs and Super PACs has been a time-consuming legal challenge, but with the new FreedomWorks PAC his group now has all of the tools while maintaining its core values.
"If you're running (again) for dog catcher, our question is still 'Did you cut the budget and catch more dogs,' " he said.
Joe Desilets, managing partner at the D.C.-based political consulting firm 21st & Main, says an ongoing concern is the proliferation of PACs being started by "any former candidate, campaign staffer, activist or consultant with access to an email or donor list" because they are overwhelming donors and their email in-boxes
"The enthusiasm and desire to get involved and have an impact on behalf of conservative candidates is great," he said. "But it hurts the established and effective conservative organizations that all of these new groups want to emulate."
Desilets also said groups that want to be effective in 2016 indeed must craft a more robust digital strategy that includes online ad buys and mobile campaigns, considering roughly 75 percent of Americans now use smartphones, with the percentage even higher among such key demographics as millennials, Hispanics and single women.
Brandon says FreedomWorks is focusing on just two or three 2016 Senate races and 10 to 15 House races.
The group has been eyeing Arizona GOP Rep. Matt Salmon to challenge incumbent Arizona Republican Sen. John McCain and Florida GOP Rep. Ron DeSantis for the Senate seat being vacated by 2016 Republican presidential candidate Sen. Marco Rubio.
DeSantis earlier this month officially announced his Senate candidacy, and Salmon has yet to say anything about a potential Senate bid.
The Associated Press contributed to this reports.