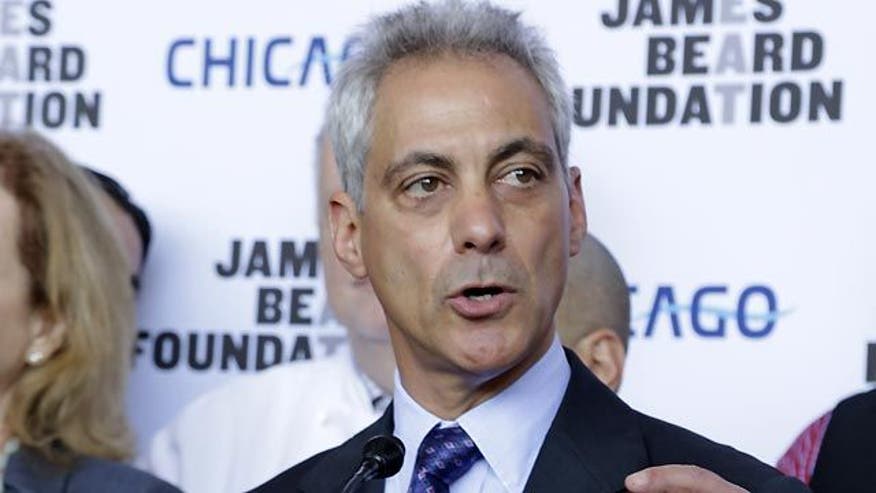 On the set of the "Tonight" show, host Jimmy Fallon and Chicago Mayor Rahm Emanuel reminisced about the bitterly cold March day when they took the Polar Plunge in Lake Michigan.
"It was cold that day, really, really cold," Fallon said.
"Your insights are unbelievable," the mayor deadpanned.
Fallon took the ribbing good naturedly and laughed at the mayor's jokes. By all appearances, Fallon likes Emanuel. Maybe it's the clout of Emanuel's super-agent brother. Maybe the mayor just navigates well among the stars. But he does well around celebs and Hollywood types.
Emanuel's problem is that he's not doing as well with the regular wage-earner types, those in the wards and neighborhoods of Chicago. They only navigate local. They only think local. They vote local.
"You're better to be seen with the guy next door than the movie star. He's going to vote. The movie star isn't," said Chicago pollster Michael McKeon.
Chicago's mayoral election is February 24, 2015.
The McKeon poll shows Emanuel in a statistical dead heat with a hypothetical candidate: Cook County board president Toni Preckwinkle.
She has not said she will run. Chicago political wonks think there is a good chance she won't, but if she did, a poll by the Illinois Observer shows her winning by 8 points.
Preckwinkle clobbers Emanuel among minorities: 8 percent to 35 percent among African-Americans, 2 percent to 40 percent among Hispanics. "It's a huge vote here in the city," said Chicago political analyst Thom Serafin.
Emanuel took 56 trips since taking office and the streets are filled with potholes.
Chicago voters are quick to forget the brutality of the last winter and quick to remember that their car just bottomed out. Those potholed streets are also strangled with bike lanes, scarcely populated with Divvy bikes, a financially-troubled bike sharing program that is part of the mayor's green agenda.
"I want to see a ward committeeman go up to the door and say, 'Hey, I know your traffic is bad, but take a deep breath, isn't the air better? That ain't gonna get you no votes," said McKeon.
Chicagoans see so much gang violence, newspapers have run stories about the rare evening when no one gets shot. Fifty schools have closed. The teachers went on strike.
The mayor's motorcade was caught by red light cameras — a program the mayor championed — running a light. A Channel 7 investigation revealed the motorcade ran up enough parking tickets to qualify for the boot.
The city is strapped for cash and the pension fund looks to be about $20 billion shy of its obligation.
"I have a hard time finding people who like him," said Chicago Tribune columnist John Kass.
According to the polls, whites keep Rahm in the running and rich, white businessmen, many living in the suburbs, help keep his war chest fat even if they can't vote.
Emmanuel currently has over $7 million ready to spend. Anyone in the field of potential contenders is penny-ante by comparison.
Couple that with Emanuel's hard-earned reputation for running cut-throat and very effective campaigns. "To go up against Rahm, you'd have to have some large ones and put your life through a lot of misery for a while. It's not going to be an easy road. It's a brass knuckle operation," Serafin, said.
Michael Tobin joined FOX News Channel (FNC) in 2001 and currently serves as a Chicago-based correspondent.