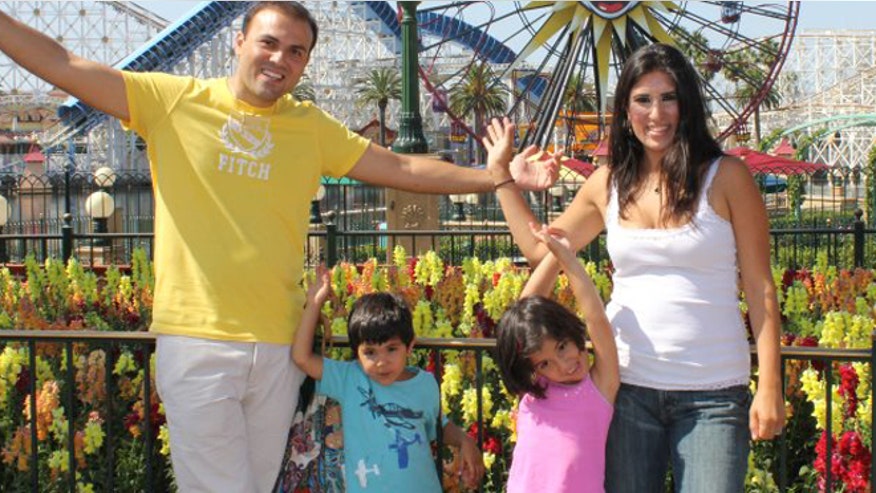 A United Nations panel this week blasted Iran's continued imprisonment of American citizen Saeed Abedini, who is serving an eight-year prison term in the Islamic republic for practicing his faith.
Abedini, 34, of Boise, Idaho, "has been deprived of his liberty for peacefully exercising the rights to freedom of religion, belief, and association," said the report, from United Nations Human Rights Council Working Group on Arbitrary Detention. The report comes just a week before leaders from around the world, including Iran, gather for the annual UN General Assembly in New York, and ahead of the Sept. 26 two-year anniversary of Abedini's jailing.
The six-page document detailed Abedini's plight and called for his immediate release. His wife, Naghmeh Abedini, who remains home with their two children, has pleaded with lawmakers and the White House to pressure Iran. She told FoxNews.com she believes the UN stance could go a long way toward bringing Saeed Abedini home.
"From the depths of my heart, I urge the member countries of the UN to act on the recommendations of this report."

– Naghmeh Abedini, wife of imprisoned pastor
"There are times where your cause feels forgotten — but today is not one of those days," she said. "From the depths of my heart, I urge the member countries of the UN to act on the recommendations of this report. As these countries sit face-to-face with Iran during the upcoming UN General Assembly, I plead with them to ask for my husband's release. It is time for our family to be re-united. My children need their father and I need my husband."
Abedini was arrested in 2009, but released after pledging to stop formally organizing house churches in Iran. When he returned to Iran in 2012 to help build a state-run, secular orphanage, police pulled him off a bus and imprisoned him.
Over the last two years, Abedini has endured long stints in solitary confinement, and, according to his attorneys, beatings and torture at the hands of his jailers and fellow inmates. For months, he has been denied proper medical attention for his injuries, according to his family and attorneys.
"This formal opinion recognizes the arbitrary nature of Pastor Saeed's imprisonment — an imprisonment that the group declared violated numerous provisions of international covenants to which Iran obligated itself," said Jordan Sekulow, executive director of the American Center for Law & Justice, which represents the Abedini family.
"Iran is at a critical juncture on the world scene, and it is time that Iran take a step of good faith and release Pastor Saeed in accordance with the UN's recommendation," Sekulow said.
More than a decade ago, Abedini began working as a Christian leader and community organizer developing Iran's underground home church communities for Christian converts who are forbidden from praying in public churches. After spending months imprisoned without any notice of charges, Abedini was sentenced in January 2013 to eight years in prison, as his family and attorneys continue to press the State Department and other public and private groups to help win his release.
There has been wide bipartisan support in the Senate and Congress, with lawmakers calling for the pastor's immediate release.
Last year, Abedini's attorneys filed an appeal to overturn or shorten his prison sentence but the court denied the petition.
Many have criticized Western leaders for not pressing more forcefully for Abedini's release, along with the two other Americans, former U.S. Marine Amir Hekmati and former CIA operative Robert Levinson, to be released as part of the ongoing nuclear deal with the Iranian government.
President Obama raised the issue of Abedini in his historical phone call with Iran's President Hassan Rouhani in September of last year as he left the UN and headed back to Tehran, but did not make it a condition for dropping U.S.-led economic sanctions imposed over Iran's nuclear weapons program.
Lisa Daftari is a Fox News contributor specializing in Middle Eastern affairs.