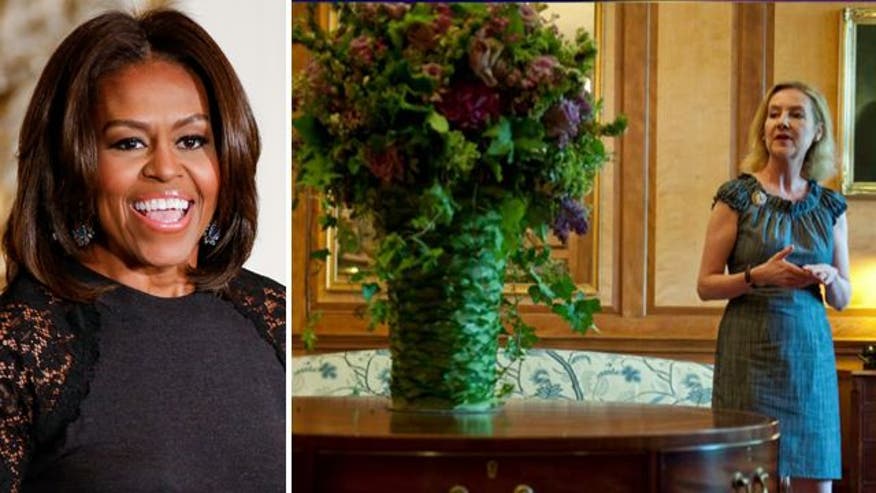 The sudden departure of the longtime White House florist has the scent of scandal.
The official story is that Chief Florist Laura Dowling simply left her position earlier this year.
But a source familiar with the situation confirmed to Fox News that she "resigned." Reportedly, she was even escorted from the building — and this was preceded by a clash over aesthetics with first lady Michelle Obama.
The Washington Post first reported on the fresh-cut drama earlier this week, with a source telling the newspaper Dowling was escorted out on Feb. 13 after nearly six years on the job.
Sources told the Post her "fussy style" clashed with Michelle Obama's more modern approach to White House decor.
Dowling's style "is just different," one floral designer told the Post. "I'm not sure if it was right for the White House."
Reportedly, the first lady debuted a more modern Old Family dining room just three days before Dowling left.
Reached for comment, the first lady's office praised Dowling's work without speaking to the circumstances of her departure.
"As Chief Florist, Laura Dowling and her team treated guests of the White House to their beautiful floral arrangements," the office said in a statement to Fox News. "Ms. Dowling's creations were always lively and colorful, reflecting not only the season but the unique and historic rooms which they graced. No two arrangements were ever the same and each one left guests with a lasting impression of the elegance and history of the People's House. We are grateful for her contribution over the years and wish her well."
Another source insisted to Fox News that there was no scandal surrounding her departure, and that she simply brought a bit too much drama to the job and was a weak manager.
Fox News' Ed Henry contributed to this report.